Environmental indifference: Financial crisis trumps climate issues - survey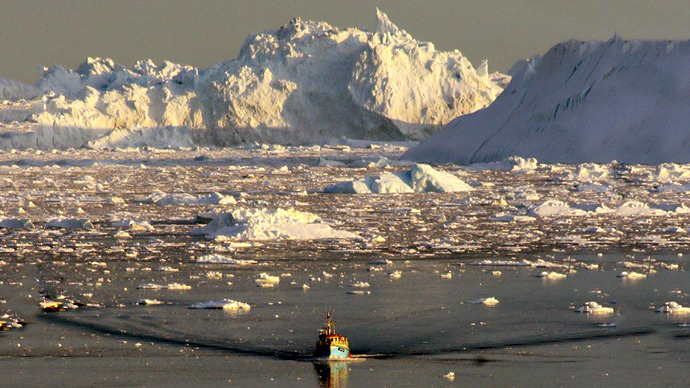 Global warming was once the buzz topic of political debate, but times have changed and economics have bumped climate change to the bottom of the priority list. That's according to a new survey which shows that ecological fears have severely dropped.
The findings, which were gathered by a GlobeScan Radar annual tracking poll, show that concerns about the environment have reached a two-decade low since the start of the financial crisis. The survey questioned 22,812 people in 22 countries.

The poll interviewed participants on the importance of seven environmental issues, ranging from auto emissions to depletion of natural resources. Most of the concerns were taken most seriously in the mid-2000s, but have dropped sharply since then.

Only 49 percent of people now consider climate change a very serious issue – far fewer than at the beginning of the crisis in 2009.

Water pollution is currently viewed as the most critical environmental concern, rated by 58 percent as a very serious issue. However, that number is down from 2006, when around 75 per cent of respondents viewed it as a serious topic.

The results come after years of studies which show the impact of global warming on the planet.  

"Evidence of environmental damage is stronger than ever, but our data shows that economic crisis and a lack of political leadership mean that the public are starting to tune out," GlobeScan Chairman Doug Miller said in a statement.

Fewer people now consider air pollution, animal species loss, and fresh water shortages to be very serious problems than at any time since tracking began 20 years ago.

Fears over global warming are significantly lower than they were between 2003 and 2008, with less than one person in every two regarding it as a very serious issue.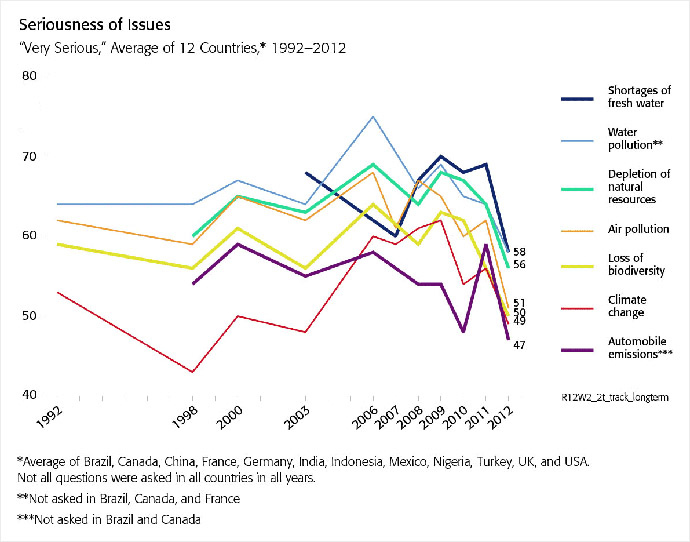 Many of the sharpest falls have taken place in the past two years, thanks to recent economic worries and high unemployment rates.
And although worries about climate change first dropped in industrialized nations, they have now also fallen in developing economies such as Brazil and China.
The survey also found a correlation between perceived seriousness of climate change and the unsuccessful UN Climate Summit in Copenhagen in 2009.
The summit ended with political leaders failing to agree to a deal which would slow the increase in greenhouse gas emissions.
But although environmental worries have waned, they have far from disappeared, according to the head of World Wildlife Federation UK, David Nussbaum.

"The problems haven't gone away…there are longer-term concerns that may not seem imminent that are extremely serious," he told The Independent. He said that it was only when "real indicators" of climate change came, such as floods and a drought, that public opinion was swayed.

And Nussbaum says the general public is unlikely to regain an interest in environmental issues unless a new and innovative campaign is launched.

"Those who care about mobilizing public opinion on the environment need to find new messages in order to reinvigorate a stalled debate," he said.
You can share this story on social media: