Energy interests behind Russian 'aggression' - Saakashvili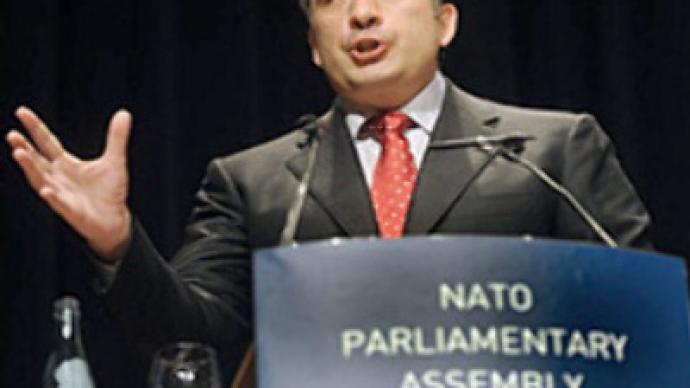 Georgia's President has accused Russia of a pre-planned military offensive in August this year in Georgia, which he says was aimed at protecting Russia's interests in the energy sector. Mikhail Saakashvili made the remarks on Tuesday at the 54th session of the NATO Parliamentary Assembly.
"The event didn't start in August but many months, even years ago, it was the story of a pre-announced invasion", Saakashvili denounced.
According to the leader, Moscow's real intentions are proved by the concentration of troops and Russian tanks in the region, and the completion of a railway line and military base in the republics of Abkhazia and South Ossetia.
"It is clear it was all premeditated, militarily, politically and diplomatically prepared," he went on to say.
Saakashvili accused Russia of having committed "the most flagrant and despicable violation of international rights since the Second World War".
He added that the requirements of the Medvedev-Sarkozy peace plan have not been fulfilled and that a new conflict is possible in the region.
Russian envoy to NATO Dmitry Rogozin, was invited to the NATO Parliamentary Assembly session but did not get permission to make a speech.
Rogozin said this situation will only result in "a distorted, one sided perception of the events in the Caucasus".
"This is why I considered it impossible to accept the invitation to attend the NATO Parliamentary Assembly in Valencia," he told RT. "In turn, I invited leaders of national delegations to the Assembly to our mission in Brussels. We'll talk there".
Related links
NATO in no hurry to admit Georgia
Thousands demand Saakashvili resignation
New York Times report questions Georgia's role in Ossetian war
You can share this story on social media: