Rivals urge vote fraud probe at prez-elect gathering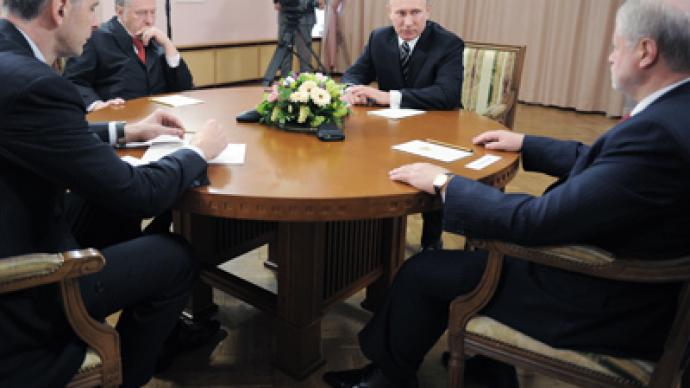 Vladimir Putin has assured his rival candidates that all reports of violations will be carefully investigated by the Central Elections Commission.
Meeting with Vladimir Zhirinovsky, Mikhail Prokhorov and Sergey Mironov on Monday, Putin said he would task the CEC with investigating all irregularities registered and reported by the candidates and their offices."I have not talked with [Vladimir] Churov and I did not see him either yesterday or the day before yesterday," Putin said. "I will, and I will tell him that all of the alleged election abuses arriving from your campaign staffs must be carefully probed."The meeting was the first major item on Putin's schedule after a landslide victory in Sunday's presidential poll. He appealed for a united effort to tackle the problems the country currently faces more effectively. Russia's president-elect has urged his former rivals to treat with respect all those who honored them with their votes.Three of Putin's former rivals – the leader of the Liberal-Democratic Party, Vladimir Zhirinovsky, Just Russia party leader Sergei Mironov and independent candidate Mikhail Prokhorov, arrived at the Prime Minister's state residence. The fourth presidential candidate, Communist Party leader Gennady Zyuganov, chose to stay away.Mikhail Prokhorov, who came third in the presidential race, pledged to speed up the formation of a middle-class political party. Vladimir Putin welcomed the idea, saying it could become a good basis for a fruitful dialogue."If you proceed with your plans to create a party, it will be a foundation for a constructive dialogue," he said. "Over 5.5 million people gave me their votes and I will work off their credit of trust by forming a new political force," pledged Prokhorov at the meeting.Click here for full election coverage
With all that, RT's Irina Galushko, who was at the meeting, says the mood was "very amicable." Putin's former contenders congratulated him on his win, while the president-elect returned congratulations on their significant gains in vote numbers.
You can share this story on social media: