Election can wait, Yushchenko tells bankrupt Ukraine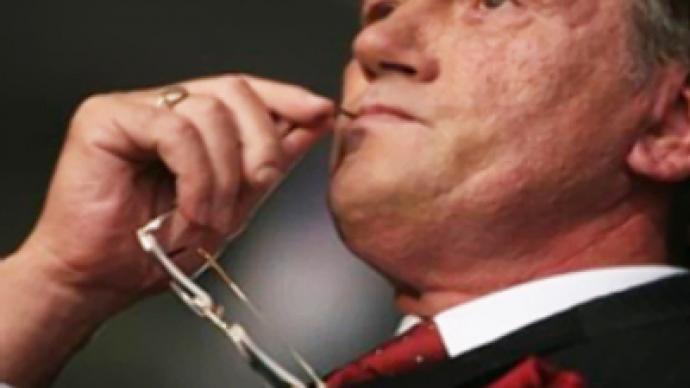 Ukraine's President Viktor Yushchenko has refused to hold early parliamentary elections due to the economic crisis, the head of the presidential secretariat said in an interview with Kiev's ITCV TV channel.
Referring to the president's decision, Viktor Baloga said the election is now of secondary importance.
"There will be no election. The president does not need elections when we are facing an economic crisis, which is a very serious problem," Baloga said.
The first thing for parliament to do, he went on, is to adopt the 2009 budget and to elect a speaker of the Ukraine's parliament – the Supreme Rada.
"The consolidation of the legislative body and of political forces is problem number one today. The adoption of a package of laws needed for the formation of the 2009 budget is problem number two. The problem of the election and the posts should be tackled after those two," Baloga said.
Tomorrow, on December 2, the State Rada will meet for a plenary meeting where the election of a speaker will top the agenda. This post has been vacant since November 12, when Arseny Yatsenyuk resigned.
The faction of Our Ukraine–People's Self-Defence will propose the candidacy of Ivan Pliushch. On December 1, during a closed-door meeting, Yushchenko was elected the leader of the party.
Andriy Parubiy, one of the party leaders, is quoted by UNIAN as saying: "I believe this is a clear signal that if early elections take place in 2009, Viktor Yushchenko will top the list of our party or a bloc if such is set up."

When asked whether the early election would be held, he said, citing the president, that it was still possible if the legislature failed to demonstrate "fruitful work."

Originally, snap parliamentary elections were set for December, but were called off to allow the government to work to overcome the global financial crisis. The parliament was dissolved by the President after the collapse of his party's coalition with Prime Minister Yulia Tymoshenko's bloc in September.
According to opinion polls, up to 80% of Ukrainians are against holding early parliamentary elections.
You can share this story on social media: