Egyptian 'missionary' tortured to death in Libya – human rights lawyer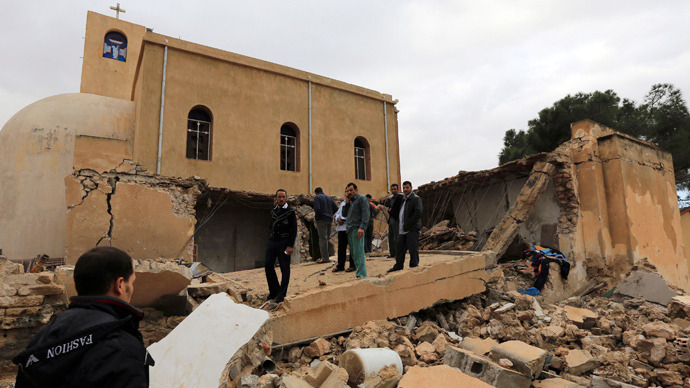 An Egyptian Christian suspected of trying to convert Muslims in Libya was tortured to death while in police custody, an Egyptian human rights lawyer said.
Ezzat Hakim Attallah "died after being tortured with other detainees" in Libya's second largest city Benghazi, Naguib Guebrayel, a Coptic Christian lawyer who heads the Egyptian Union for Human Rights, told AFP.

Guebrayel's claim contradicts an Egyptian Foreign Ministry official who said on Sunday that Attallah, who suffered from diabetes and heart ailments, had likely died of natural causes.

Attallah was among five Evangelical Christian Egyptians detained in Libya for allegedly attempting to seek religious converts in the predominantly Muslim nation.

His death follows the March 1 detention of four dozen Egyptian Christians in the city.

"Forty-eight Egyptian traders who worked in the Benghazi municipal market have been arrested based on reports of suspect activities," a Libyan security official told the agency in Benghazi on condition of anonymity.

The source said the Copts were primarily arrested for entering Libya illegally, they also had large quantities of religious texts and paraphernalia which were not for "personal use."

The men were reportedly rounded up by a group claiming allegiance to be Ansar Sharia, the notorious Islamist militia implicated in the death of American Ambassador Chris Stevens last September, the UK Telegraph reports.

They were later handed over to a government-backed group in what the daily reports is a "wider purge of hundreds of Egyptians" in the restive city.

Ragaa Nagah, the wife of one of the detainees, told the paper her husband "was afraid to tell us how he was tortured, but he couldn't see out of one of his eyes."

"They were standing over him and beating him while they asking him to confess and when they were about to give him an electric shock he said, 'Don't do that and I will say anything you want me to say."

Four other foreigners - an Egyptian, a South African, a South Korean and a Swede with a US passport - were also arrested in Benghazi in mid-February on suspicion of proselytizing.  

Proselytizing – which was banned under the secular regime of Muammar Gaddafi – remains illegal in post-revolutionary Libya.

Guebrayel says that Egypt's Islamist government had done little to aid Egyptians arrested in Libya.  

However, Egypt's Foreign Ministry intervened to secure the release of 55 Egyptians who were also arrested on suspicion of trying to convert Muslims to Christianity. Thirty five of them were deported for illegally entering the country, while 20 more were allowed to stay in Libya.

Church officials say pre-revolutionary Libya had up to 100,000 Christians, though their numbers have dwindled to a few thousand since.

Since the 2011 revolution that resulted in Gadhafi's ouster and subsequent death, the fear of Islamic extremism has rattled the country's small Christian minority, most of whom are expatriates.

You can share this story on social media: