Egyptian and Palestinian presidents meet to stop violence in region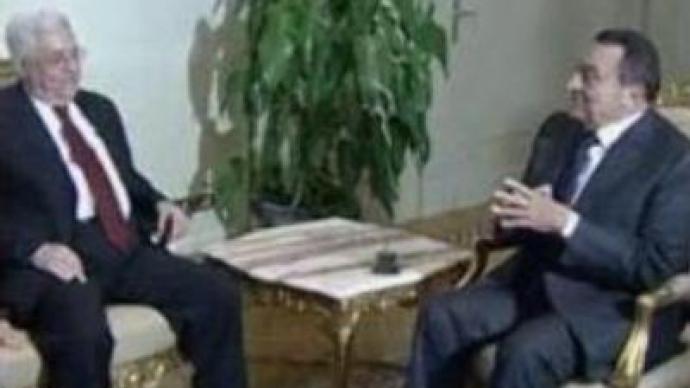 Egyptian President Hosni Mubarak and the Palestinian President Mahmoud Abbas have met in Cairo. Their talks focused on the situation in Palestine and ways of stopping violence in the region.
The two leaders' meeting came at an uneasy time for the Palestinian President, with violence between the two main factions, Hamas and Fatah, claiming the lives of 30 people in less than a week.The talks in Cairo focused on the stalled efforts to form a Palestinian unity government. Following Egyptian mediation, a ceasefire came into effect and still appears to be holding in spite of continuing unrest in the region. Mahmoud Abbas said the Palestinian people have had enough of the current turmoil and want both sides to show restraint.However, some experts expressed scepticism regarding the perspective of this ceasefire, saying that in the past Hamas and Fatah used ceasefires only as a chance to re-group and prepare for the next round of fighting.For President Abbas the formation of a Palestinian Unity government would bring an end to the security problems now plaguing the Palestinian territories because of inter-factional violence, but he stressed once again, that if talks failed he would call for early presidential and parliamentary elections.Meanwhile, a ceasefire in Gaza is still holding despite the killing of a Hamas commander.The man was reportedly shot dead by Fatah gunmen hours after officials from the rival Palestinian factions announced an end to hostilities.Hamas has condemned the incident but stopped short of blaming Fatah directly for the killing.By and large, Palestinian leaders seem to feel desperate to end infighting which has killed over 60 people in the last 2 months. Other recent truce deals have quickly collapsed.
You can share this story on social media: