Sinai military build-up: Egypt to deploy tanks and aircraft to tackle Islamist militants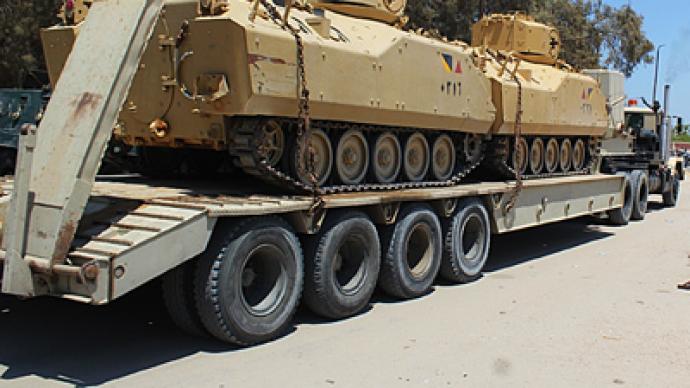 Egypt is set to put tanks and aircraft on duty in Sinai for the first time since its 1973 war with Israel in a bid to tighten security in the region. Meanwhile, Tel Aviv has installed its Iron Dome anti-rocket system near the Egyptian border.
The plan was first voiced by President Morsi after an August 5 attack blamed on Islamist militants that killed 16 Egyptian border guards. It was then finalized by Egypt's newly appointed Defense Minister General Abdel Fattah al-Sisi, as he made his first official visit to Sinai Monday."Al-Sisi will supervise the putting together of final plans to strike terrorist elements using aircraft and mobile rocket launchers for the first time since the beginning of the operation," an Egyptian security source told Reuters.Another Egyptian insider said the army was planning to attack and besiege al-Halal Mountain in central Sinai with tanks, as militants were suspected to be hiding there.The decision to place additional Egyptian forces in the Sinai Peninsula was backed by Israel despite the 1979 peace treaty between Tel Aviv and Cairo, which limits military presence in the region.At the same time, Israel announced that it had installed its Iron Dome air defense system, which is designed to intercept and destroy rockets at the border."An Iron Dome battery has been deployed in the town of Eilat as part of tests, momentarily modifying the sites where these systems are deployed," an Israeli military spokesperson said. The announcement came after two rockets were fired on Wednesday from Sinai at Eilat, Israel's Red Sea resort town near the Egyptian border.An Islamist militant group called Ansar Jerusalem claimed responsibility for the attack, which caused no casualties.Militant groups that have taken root in the Sinai regularly call for the peninsula to be turned into an independent Islamist state, and frequently attack Israeli targets.Violence in the region has increased significantly since the overthrow of the Hosni Mubarak government in a mass uprising in 2011. Mubarak worked closely with Israel to keep the region under tight control. Newly elected President Morsi has promised to restore stability to the area.