Egyptian opposition unites against Mubarak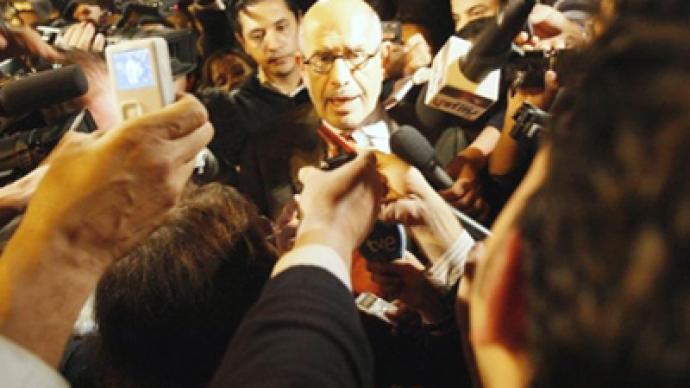 The Egyptian opposition has come together as a united force after six days of bloody anti-government riots. The nationwide demonstrations to remove President Hosni Mubarak from power have resulted in more than 100 killed and thousands injured.
The ex-chief of the International Atomic Energy Agency, Mohammed ElBaradei, has been chosen by opposition groups as a negotiator with Mubarak's regime. The internationally popular candidate, ElBaradei has a weaker footing among the Egyptian public. "I think the problem is, for the Egyptian public [ElBaradei] does not really have the credentials and the career to make him a popular or populist figure," said Mark Almond, professor of international relations. "He has been abroad for so many years. He is very much part of the international westernized elite." On Sunday, ElBaradei addressed hundreds of thousands of protesters, reiterating the opposition's goal: for Hosni Mubarak to step down.But Hosni Mubarak is not going down without a fight. First he sent in his army, and then he reshuffled the government. On Monday, Hosni Mubarak has sworn in a new cabinet, of which the most significant change is the Minister of the Interior. Habib El Adly, who had been condemned for ordering a police crackdown on protesters, has been replaced by a retired police general, Mahmoud Wagdi. But the opposition has not been pacified with limited concessions by Hosni Mubarak. The protesters vow that Tuesday will see a "march of a million" in the Egyptian capital – another attempt to speed up the toppling of the regime.Next came the air force. The people's voices are loud but they've been drowned out by F-16s and MiG-21s flying overhead."Thank you, Mr. Obama – this is your friend. This is Hosni Mubarak. This is your friend," a protester on the street said.And the American involvement is reminiscent of earlier revolutions in Eastern Europe."No question about it what happened in Georgia with the Rose Revolution and Ukraine with the Orange Revolution in 2003-2004 was part of a long-term strategy orchestrated by the Pentagon, the State Department and various US-financed NGOs like Freedom House and National Endowment for Democracy," journalist William Engdahl said.And like those earlier revolutions, the Egyptian people have mobilized around a common goal. Abdel Noor came all the way from the city of Aswan in southern Egypt to get rid of the dictator. "He tried to beat us with the police – he failed. He tried to beat us with the army – he failed!" protester Abdel Noor says.Ahmad Abbas is an engineer – qualified, and jobless. But he says he cannot find work because of corruption. And as a result, Europe beckons. "Most people want to go to Italy, want to go to Greece, want to go to England, so people in Egypt want to leave this country because they are very frustrated, and they are looking for [a]better life, for [a]better future," Egyptian journalist Mohammed El Sibai says.And for Europe, that means mass immigration and the problems that come with it. May Khourshed lives abroad, but got caught up in the violence on a trip back home. "I don't think that there's enough momentum at the moment; that people will just continue to just go out and protest until something is done," she said. "I think people are just fed up." Meanwhile, the casualties keep climbing, many young men being the victims of an aging regime.
Watch report
You can share this story on social media: