US concerned with widening crackdown in Egypt
Published time: 30 Nov, 2013 05:51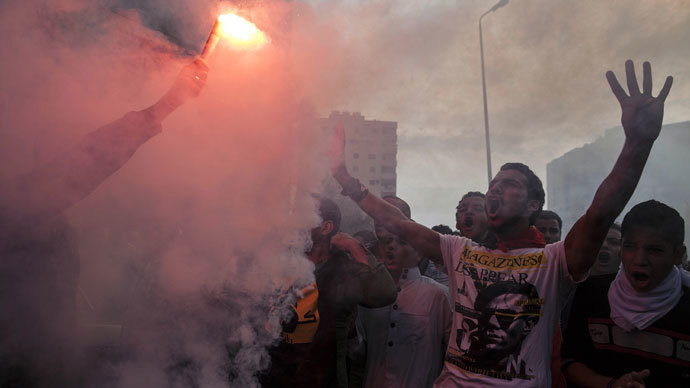 The US has expressed concern over the increased crackdown on unauthorized protests against the new law heavily restricting demonstrations, as Egypt's police arrested nearly 200 people on Friday.
According to Egyptian Interior Ministry officials, at least 183 people were detained across the country, with 106 arrested in the country's capital, Cairo. Eight have been people injured.

Friday's demonstrations come after days of rallies against the controversial decree, as both Islamists and secularists continue to ignore the controversial decree that bans public gathering of more than 10 people.

US State Department spokeswoman, Jen Psaki, noted that police used water cannons to disperse the "peaceful protesters".

"The United States is concerned by the troubling effects of Egypt's recently passed demonstrations law," she said on Friday. "Peaceful demonstrators need to have a means to express their views."
Over the years, the Egyptian military have enjoyed a special relationship with the US that included lucrative military deals and financial aid from Washington. Following the army's ouster of democratically-elected President Mohamed Morsi in July, the Obama administration stopped short of describing it as a coup thus preserving the ties.
In Cairo, police fought off hundreds of pro-Morsi protesters with tear gas, while some witnesses described hearing gunshots. Activists responded to similar police measures in the capital's Mohandessin district by throwing stones and burning tires.
More protests were broken up in Alexandria, Suez, Mahallah and Qena, but details of those demonstrations remain unknown.  
The fresh demonstrations came after the arrest of a prominent blogger, Alaa Abdel Fattah, who was charged with organizing an illegal demonstration, thuggery and inciting violence.
On Wednesday, Egyptian authorities handed out heavy prison sentences to a group of 21 young female supporters of former President Mohamed Morsi and ordered the detention of two dozen secular activists for participating in Tuesday's demonstrations. Some of the female activists were underage.
UN chief Ban Ki-moon expressed "serious concerns" on Wednesday about the impact of Egypt's new law and reiterated the misgivings expressed earlier by the United Nations High Commissioner for Human Rights "that the new law that was passed could lead to serious breaches of the right to freedom of peaceful assembly."
The military-backed government is defending its actions by arguing that it simply wants to restore order to the streets, even going as far as linking efforts to thwart those giving them trouble to a "war on terrorism."
Authorities point to continuing protests by the Muslim Brotherhood and other supporters of Morsi, ousted by the military in July, as a reason for the law. Morsi was the first democratically-elected leader in Egypt's history.