Top judges, opposition protest Morsi's power-extending decree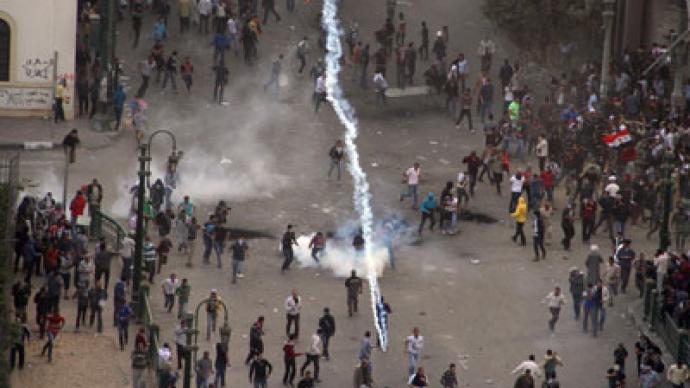 Riot police fired tear gas to disperse crowds of people camped out at Cairo's Tahrir Square, protesting against President Mohamed Morsi's power-extending decree. Egypt's top judges have demanded the leader reverse the measure.
In a press conference on Saturday, Egypt's Judges Club called for peaceful demonstrations against the decree.The primary court in Alexandria, along with the judges club there, announced that they and public prosecutors have suspended all work until the declaration is withdrawn, state news agency MENA reports.The Supreme Judicial Council called on Morsi to "distance this decree from everything that violates the judicial authority," Mena state news agency reported. The Council also urged Morsi to reverse the declaration, calling it an "unprecedented attack on the independence of the judiciary and its rulings."  Protesters rallied against the move over the past two days, prompting two of Morsi's presidential aides and his Coptic Christian assistant to resign. The demonstrations were in response to Morsi's declaration, which was issued on Thursday. The decree protects Egypt's constitution-drafting assembly from being dissolved, and rules that none of the leader's decisions can be overturned.Tens of thousands of Morsi opponents and supporters turned out in several Egyptian cities on Friday. Over 100 people were reportedly injured in clashes.
Protesters gather at Tahrir square in Cairo November 23, 2012.(Reuters / Mohamed Abd El Ghany)Demonstrators vowed to continue the protest until Morsi's declaration is reversed and the constituent assembly is dissolved. The Strong Egypt Party, headed by former Muslim Brotherhood leader Abdel-Moneim Aboul-Fotouh, called for a march later on Saturday. According to a statement released by the party, a march is scheduled to leave from Cairo University at 4:00pm local time and head toward Tahrir Square, Ahram Online reported.When more protesters tried to join people at Tahrir, police reportdely teargassed them, forcing them out of the square.The statement explained the party's refusal of several articles of Morsi's declaration, including how presidential decisions were shielded from judicial challenges and how the Constituent Assembly and Shura Council could not be dissolved. A mass protest has already been planned for Tuesday by the Popular Current, which is led by former presidential candidate Hamdeen Sabbahi. The Muslim Brotherhood has also called for a protest on Tuesday, in a show of support for President Morsi's decisions."The Muslim brotherhood has answered this by rallying their members together to counteract that by making a pro-president rally. So, what they are really doing is countering every move the opposition makes," Cairo-based journalist Bel Trew told RT.Meanwhile, a weeklong sit-in is currently underway in Cairo's Tahrir Square, as demonstrators protest against a leader who they is no different than former President Hosni Mubarak, who was overthrown last year.
People from different opposition groups sit in front of their tents during a sit-in at Tahrir square to protest a decree issued by President Mohamed Mursi in Cairo November 24, 2012.(Reuters / Asmaa Waguih)Police and security forces reportedly tried to break up the protest with tear gas on several occasions throughout the night.Morsi's move has left the country divided on whether he had the legal power to issue his decree.Muslim Brotherhood supporters stood by Morsi on Friday, rallying outside the presidential palace in Cairo. They were met by angry anti-Morsi protesters, who demonstrated against what they deemed a coup and demanded the president resign.Many of those currently demonstrating against the leader used to be Morsi supporters."I am not happy with actions of the Muslim Brotherhood and of Morsi…I am one of the people who voted for Morsi, but I am disappointed in him," protester Ahmed Moamen told AP.
Egypt's President Mohamed Mursi speaks to supporters in front of the presidential palace in Cairo November 23, 2012.(Reuters / Handout)