Standing with Gaza: Egyptian protesters 'refuse Israel and politics of America'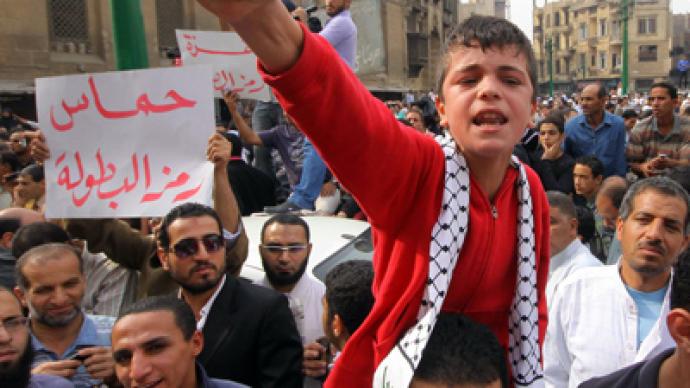 Thousands of Egyptians protested against Israeli air strikes against Gaza on Friday. The demonstrations took place as the country's prime minister visited Gaza in a show of support for Palestinians. The rallies were called by the Muslim Brotherhood.
The protests took place in Cairo and Alexandria, Egypt's two largest cities. Demonstrators waved Palestinian flags and chanted anti-Israel slogans. Hundreds of people in Cairo's Tahrir Square burned an Israeli flag."We're here today to say to Israel: Go to Hell," Cairo protester Mustafa Kamel told USA Today. "Muslims are strong. In Egypt, we refuse Israel and the politics of America."Several prominent members of the Muslim Brotherhood participated in the rallies, in support of Hamas – an offshoot of the group. "Our (Muslim) community is the strongest community…Israel, the arrogant supremacist on the ground, cannot break this community with its missiles, weapons from the air, ground and sea, or with its nuclear bombs," cleric Sheikh Yusuf Qaradawi told AFP. Qaradawi said the Islamic world would not be silent in the face of Israel's operation in Gaza.Egyptian President Mohamed Morsi has recently faced calls to take stronger action against Israel. He has recalled Egypt's ambassador to Tel Aviv in protest and dispatched Prime Minister Hesham Kandil to Gaza on Friday.In a statement to MENA news agency, Morsi called Israel's attacks on Gaza a "blatant aggression against humanity" and said that Egypt will not leave Gaza on its own.
Protests have swept other parts of the region, too. In the West Bank city of Nablus, more than 3,000 people rallied to call on Hamas to "Bomb Tel Aviv" and shouted "Death to Israel."And in the city of Ramallah, more than 1,000 Palestinians gathered to chant anti-Israel slogans.The protesters shouted slogans of support for Hamas and waved the Islamist movement's green flag. They also held up large pictures of Hamas military chief Ahmed Jaabari, who was killed by an Israeli air strike on Wednesday.And in Iran, demonstrations heated up in Tehran and 700 other cities, ISNA news agency reported. Protesters in Tehran chanted, "death to America" and "death to Israel" while proclaiming their support to the Palestinian people."One must salute the Palestinians' popular resistance and the response they have given to the Zionist regime [by firing rockets into Israel]," protester Ayatollah Ahmad Khatami told IRNA. The protest came just one day after Iran urged the United Nations and European Union to stop Israel's "barbaric" offensive against Gaza, calling the operation "organized terrorism.""Immediate and serious action by international [organizations] is needed to end the military campaign against the people of Gaza," Iranian Foreign Minister Ali Akbar Salehi said in a statement on Thursday. Demonstrators gathered in front of the Israeli embassy in London on Thursday, shouting anti-Israel slogans. The protesters waved signs reading "Free Palestine," "End the Siege," and "Criminal Israel."Additional protests were held in Egypt, Lebanon, and Tunisia. On Wednesday evening, Tel Aviv targeted a car containing Hamas military chief Ahmed Jaabari, killing him. Israel continued to carry out dozens of air strikes against Gaza. Tel Aviv has declared a military offensive against Gaza, naming it "Operation Pillar of Defense." The two sides have exchanged continuous fire ever since, leading to casualties on both sides. Twenty-seven Palestinians have been killed in Gaza while three people in Israel have died from the violence.