Clashes, helicopters, tear gas as tens of thousands take to streets of Egypt
Tens of thousands of people took to the streets of Egypt on Friday, following the army's call for an end to "violence and terrorism." Fatalities and injuries were reported as clashes broke out between supporters and opponents of ousted President Morsi.
Follow RT's live updates on post-coup violence in Egypt

Over 100 people were reportedly injured across the country, as Egypt's two opposing political camps took to the streets. At least five people were killed in the city of Alexandria, according to the Interior ministry.
As numerous rallies took place across the troubled nation, thousands of pro-military protesters gathered in Cairo's Tahrir Square in support of the army-backed government. A number of high ranking police officers joined the protesters, Ahram online reported.  
Demonstrators carried posters with photographs of army chief and defense minister General Abdel Fattah El-Sisi, who on Wednesday called for Egyptian citizens to take to the streets to give the army a mandate to fight "terrorism and violence."
As helicopters flew low, protesters chanted slogans such as, "This night there will be no more Muslim Brotherhood," and "The army, the police, and the people are one hand."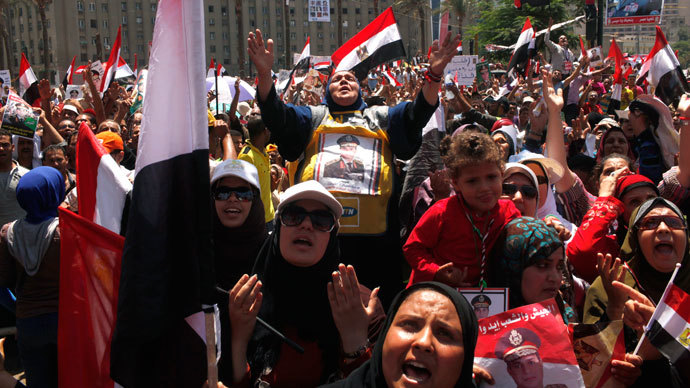 "It's a wonderful day. We lost a year of Egypt under Mohamed Morsi who only brought us injustice; he destroyed tourism, the media, and the economy," said protester Khaled Mostafa, a justice ministry employee, as quoted by Ahram Online. 
Man holds Quran and cross, symbolising unity at #Tahrir where people chant in support of the military & police pic.twitter.com/RKq3voUu1y

— Bel Trew - بل ترو (@Beltrew) July 26, 2013
Outside the square, clashes broke out between supporters and opponents of ousted President Mohamed Morsi in the neighborhood of Shubra. Ten people were injured in the violence. According to security sources, the demonstrators suffered bruises, fractures, and birdshot wounds.

Two marches comprising of hundreds of Morsi supporters from across Egypt's provincial towns gathered for prayers at Cairo mosques. The groups marched to Rahman Raheem mosque on Salah Salem Street and Rashdan mosque in Nasr City, Al-Masry Al-Youm news agency reported.

#AntiCoup rally in #SalahSalem besides #RahmanRahim mosque w/ extra #Morsy photos #ProDemocracy#Military_Coup#Egyptpic.twitter.com/Q5Jw4jIo1s

— Gehad El-Haddad (@gelhaddad) July 26, 2013
There, protesters chanted anti-military, pro-Morsi slogans. Demonstrators carried photos of the ousted president, as well as pictures of the Egyptian and black Islamist flags. Morsi's supporters also staged a sit-in at nearby Rabea al-Adaweya mosque. The venue has been used as a tent camp for almost a month.

Military armored vehicles were positioned outside the Ittihadiya presidential palace and around Tahrir Square, Ahram Arabic news website reported. 
As the day goes on, helicopters are getting lower. This one at Itehadyia where pro-Sisi crowd is gathering. pic.twitter.com/cGqf2hUIYN

— Quentin Sommerville (@sommervillebbc) July 26, 2013
Violent clashes erupted in the northern city of Alexandria, killing five people and wounding at least 86 more, according to media reports. Medics said that most of the injuries were results of bird shots and wounds from sharp objects. Police reportedly fired tear gas near Qaed Ibrahim Mosque to disperse crowds.

Injuries were also reported in the Nile Delta city of Gharbiya and the port city of Damietta.
On Thursday, Egypt's military leaders gave the Muslim Brotherhood 48 hours to sign up to political reconciliation. However, the army now denies that it intends to launch a crackdown on the Muslim Brotherhood and its supporters.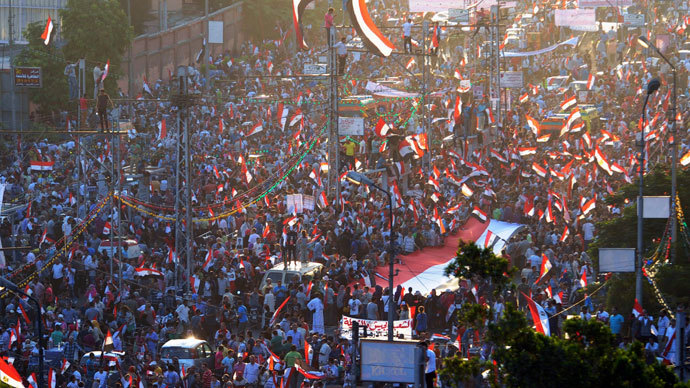 The Muslim Brotherhood argues that the military-backed deposition of Morsi on July 3 was an illegitimate coup. But the army says that it responded to the calls of the Egyptian people who protested against the country's political and economic turmoil and demanded an end to Morsi's administration.
The Egyptian army was initially holding the ousted President in detention "for his safety." But on Friday, an Egyptian court issued Morsi's arrest order on charges of conspiring with the Palestinian Islamist group Hamas - killing prisoners and officers "deliberately with prior intent," kidnapping officers and soldiers, and setting fire to Wadi el-Natroun prison.
You can share this story on social media: