At least 90 injured in Cairo as military close eyes on attack against protesters (PHOTOS)
Published time: 29 Apr, 2012 12:45
Edited time: 29 Apr, 2012 16:45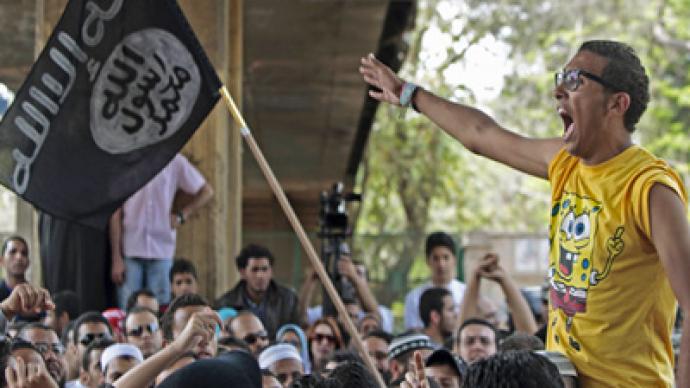 More than 90 people have been wounded as unidentified assailants attacked protesters in Cairo who called for an end to military rule. Police and army troops chose not to interfere. Some reports say a number of people have died in the violence.
Dr Mohamed Fatouh, the head of the Association of Tahrir Doctors, which has treated the injured near the site of the clashes, told reporters that four people were killed and at least 70 injured. The Egyptian Health Ministry confirmed a large amount of wounded people have been admitted to hospitals across Cairo, but denied any reports of casualties.
The clashes broke out late on Saturday, when unknown assailants attacked tens of protesters who had been staging a sit-in since late Friday at the Ministry of Defense near Abbasiya Square in Cairo. Both sides used rocks, firebombs and empty bottles. Neither army troops nor police attempted to stop the three-hour street battle, witnesses said.
Presidential hopeful Abdel-Moneim Abul-Fotouh used his official twitter account to condemn the state's reluctance to protect protesters.
"The protection of peaceful demonstrators is a state responsibility…remaining silent regarding the violent dispersion of a sit-in is a crime."
Among the demonstrators were the supporters of the former presidential contender Hazem Salah Abu Ismail, recently disqualified from the race, and other political parties.
Protesters claimed the assailants were undercover police, petty criminals on the police payroll, plain-clothes army soldiers or supporters of the ousted regime.
Reports say, in the early hours of Sunday morning new protesters joined the ones under attack bringing the numbers to 2,000. They managed to detain and bring to police one of the attackers taking part in the sit-in. The detained man in turn claimed Hazem Salah Abu Ismail's supporters provoked the clashes between locals and shop owners.
Hazem Salah Abu Ismail was one of the frontrunners in Egypt's upcoming presidential elections. But earlier in April the Supreme Presidential Electoral Commission barred the ultraconservative Salafi Islamist, along with nine other candidates, from the race. The officials ruled his late mother had dual Egyptian-US citizenship in violation of eligibility rules.
Egypt's ruling generals took over power after president Hosni Mubrak was ousted 14 months ago as a result of a nationwide uprising. Since then the military elite has faced widespread anger for killing protesters, jailing critics of their rule and putting at least 10,000 civilians on trial before military tribunals. Thousands who fought for democratic values therefore feel deprived of their revolutionary inspirations.
The protesters are stepping up pressure on the ruling military to hand over power to civilians and end the country's political chaos. The military council has pledged to transfer power to the elected civilian administration by early July.
But there is speculation the generals are manipulating the upcoming May presidential ballot to ensure the victory of a pro-military candidate and preserve their power.
REUTERS/Amr Dalsh
REUTERS/Amr Dalsh
REUTERS/Amr Dalsh
REUTERS/Amr Dalsh
REUTERS/Amr Dalsh
REUTERS/Amr Dalsh