More tear gas, clashes in Port Said as thousands join funerals (PHOTOS)
Thousands of Egyptian mourners marched through the streets of Port Said in a funeral procession for three civilians killed during overnight clashes between protesters and police. The procession came as fresh clashes reignited in the restive city.
Hundreds gathered outside a local government office near the Port Said security headquarters on Monday following violence on Sunday night. Protesters lobbed Molotov cocktails and stones at police, who fired tear gas to disperse the crowd, Reuters reported, quoting security sources.

A fire broke out at the security directorate during the clashes, sending thick plumes of black smoke into the air. Two police cars were also set ablaze.

Around 35 people were injured in the clashes, and several were struck by  bullets, the state news agency MENA reports. One man remains in critical condition after being shot in the head.

Five people, including two policemen, were killed in the night clashes. The demonstrators took to the streets to oppose a decision by the interior ministry to transfer 39 prisoners implicated in a violent 2012 soccer riot from the Suez Canal city to a jail on the other side of the Nile Delta.
The interior ministry said it moved the prisoners from Port Said in order to avoid more confrontations.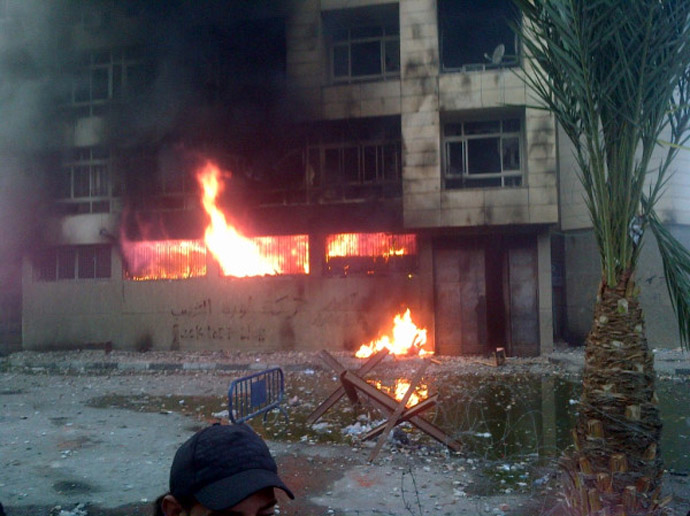 On Monday, thousands gathered outside a city mosque and performed prayers for the dead for the three civilians killed in Sunday's violence.

As the coffins were carried to the cemetery, chants of "the martyr is the beloved of God" filled the air.

Many in attendance waved the black-white-and-green flags of Port Said - which has become a symbol of the city's revolt against the government – as mourners decried officials from the interior ministry as "cowards." There were also calls for Islamist President Mohamed Morsi to step down.

Some 586 people have  been  injured since the protests started on Sunday, 16 of whom were hit with live rounds and another 27 with birdshot, Ahmed Sultan, head of emergency services, told AFP.

The city has witnessed unrest since late January, when a court sentenced 21 Port Said residents to death for the murders of 72 people after a football match in February 2012.
The fighting on Sunday prompted the military to intervene to quell the violence. It was the first time the military had been deployed in the city tensions between protesters and police boiled over following the court's verdict.

The military characterized the clashes as "unfortunate" in a statement on its Facebook page, Reuters reports. The statement further read that the "great people" of Port Said were in the "heart and conscience of the armed forces."

Tensions are likely to remain high throughout the week as the second phase of the Port Said trial is set to commence on Saturday. Thirty nine more defendants implicated in the riots will be issued verdicts in the case.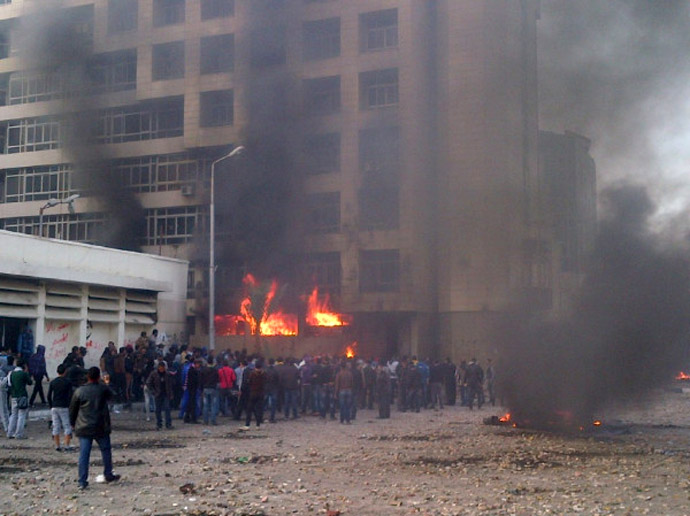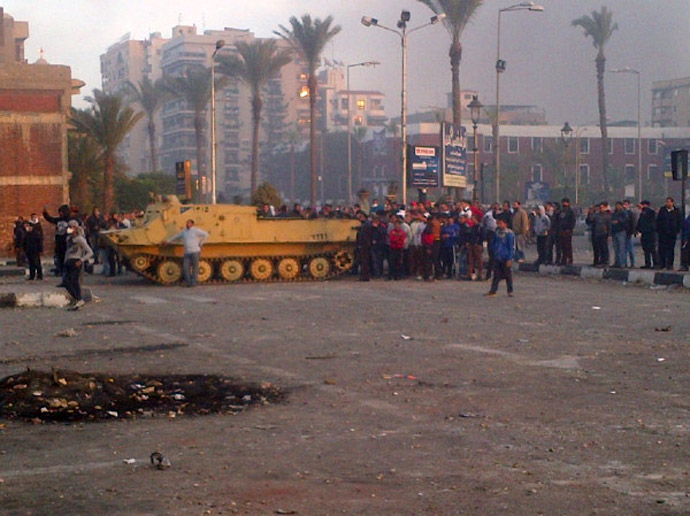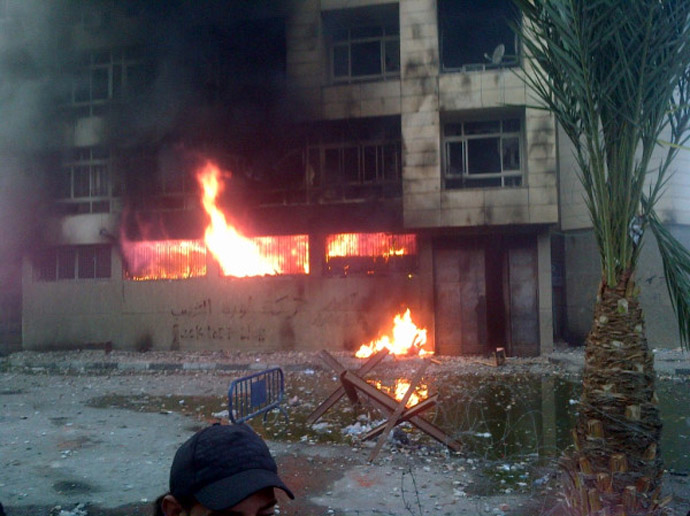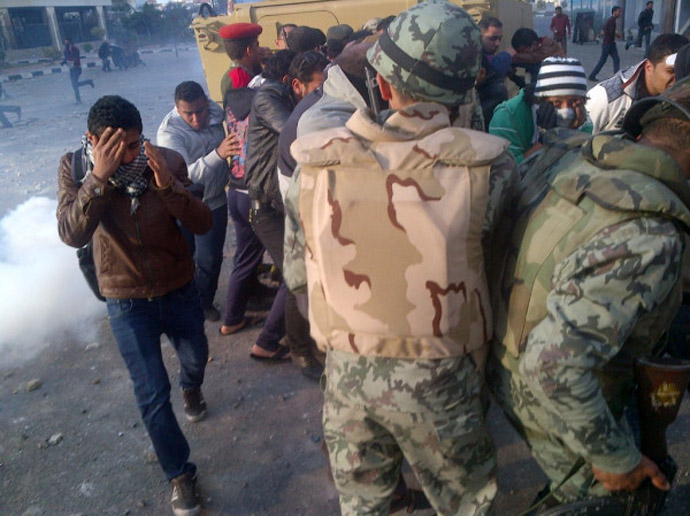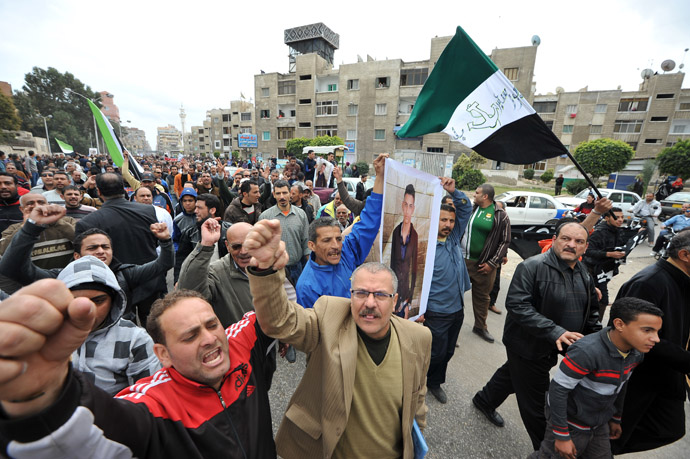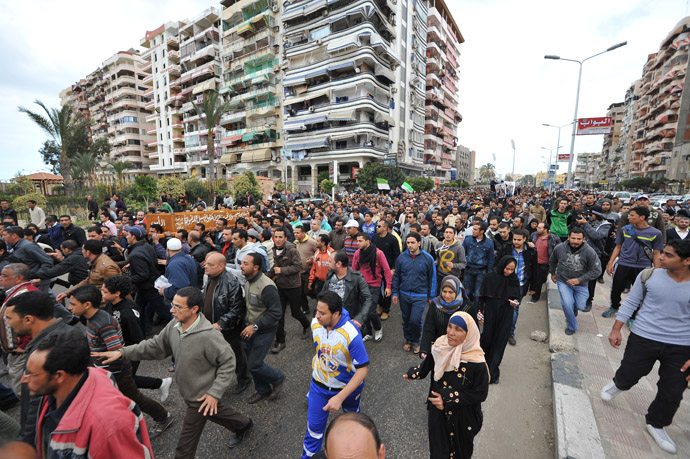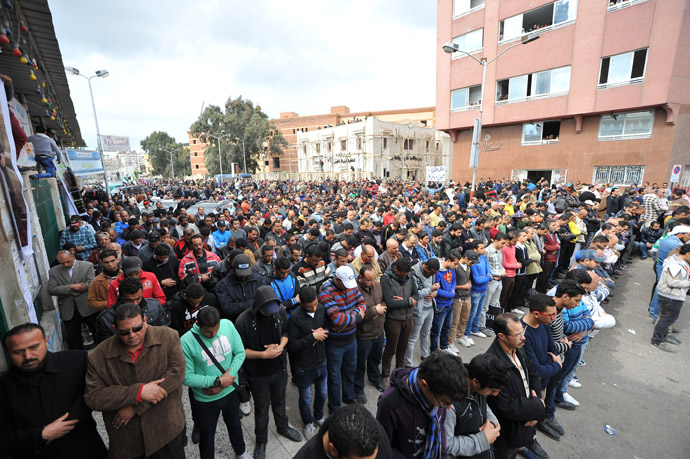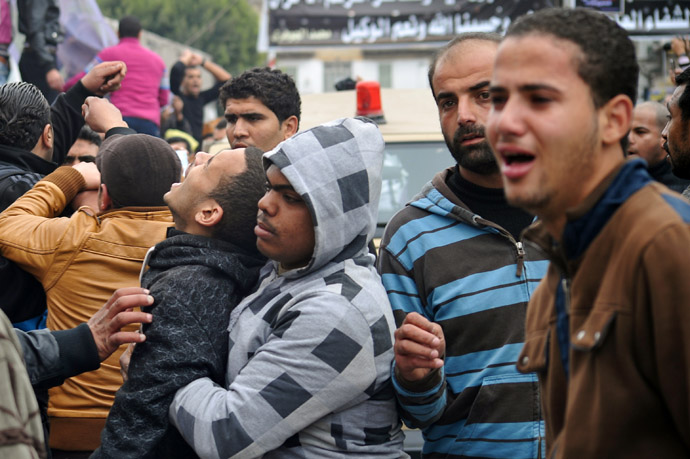 You can share this story on social media: