Egypt police rebellion: Low-ranking officers demand better work conditions
Published time: 28 Apr, 2013 23:46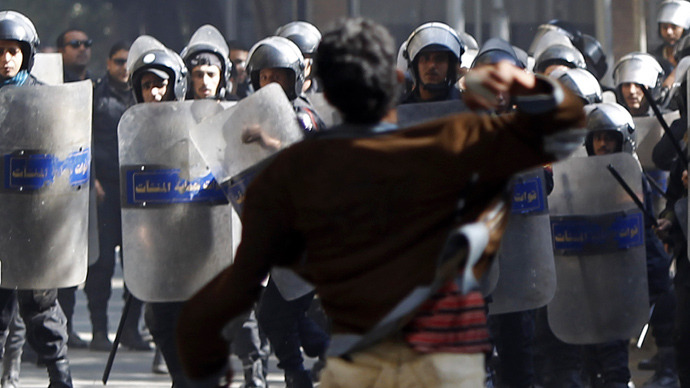 The Egyptian police have rebelled against their superiors and authorities for the third time this year demanding incentives at work, better pay, greater firepower and protection as well as more benefits.
In a rare display of disobedience, the police have stormed a superior's office in Cairo, while closing the security directorate in the North and striking in the South of the country.
The force believes that they were better treated under the Hosni Mubarak regime, which portrayed the officers as loyalists to the president and as a power symbol of the nation.
Numbering dozens strong, officers stormed the office of the deputy interior minister in Cairo in charge of health care for police, demanding better medical services and insurance.
At two stations in the Southern province of Assuit, police have refused to show up to work and went on strike demanding the overhaul of the benefits system.
In the Nile Delta province of Kafr el-Sheikh, police locked the gate to the security division with chains, according to media reports.
Some of the police officers were also calling for the dismissal of Interior Minister Mohammed Ibrahim, appointed by President Morsi in January.

The protesters claim they are frustrated with the failed promises of reform by the new government as thousands of low-ranking officers refused direct orders to guard courts during heated trials and protests which followed after the ousting of the Mubarak.

Policemen are also revolting against Muslim Brotherhood's grip of power in the country, as for decades Egypt's police had been aggressively targeting the Brotherhood. They demand for the new government to follow up on a promise to purchase bullet-proof vests and introduce stronger laws to protect them.
Side-lined during the popular insurrection in 2011, police officers have lost some of their power and prestige under the new Muslim Brotherhood era. Hundreds of policemen have been wounded this year and several have been killed in anti-government protests.
Five different interior ministers have headed the force in the past two years, and none has been able to exercise full control over the ranks.