Dozens dead as Egyptian Islamists rally to defend Morsi
Early on Monday soldiers and police resorted to guns and tear gas to disperse Islamist supporters of ousted President Mohammed Morsi outside the Republican Guard headquarters in Cairo, according to eyewitnesses.
Follow RT's LIVE UPDATES.
At least 51 protesters have been killed, including women and children in the overnight clashes, Egypt's state TV reported. A spokesperson of the Muslim Brotherhood said at least 37 of its members have been killed, with as many as 500 injured.
There are still conflicting reports as to what started the clashes with eyewitnesses saying that were fired on and army insisting they were attacked. 

Following the deadly clashes Egypt's Muslim Brotherhood called for an uprising against those who try to "steal the revolution with tanks", Reuters quoted the organization as saying.
It asked "the international community and international groups and all the free people of the world to intervene to stop further massacres ... and prevent a new Syria in the Arab world."
As protests continue, the army has reportedly been shooting into the air, as crowds of demonstrators tried to make it to the sit-in protests at Cairo's Rabaa al-Adawiya mosque in Nasr City. RT's Paula Slier reported that protesters are being pushed back with "tear gas and batons".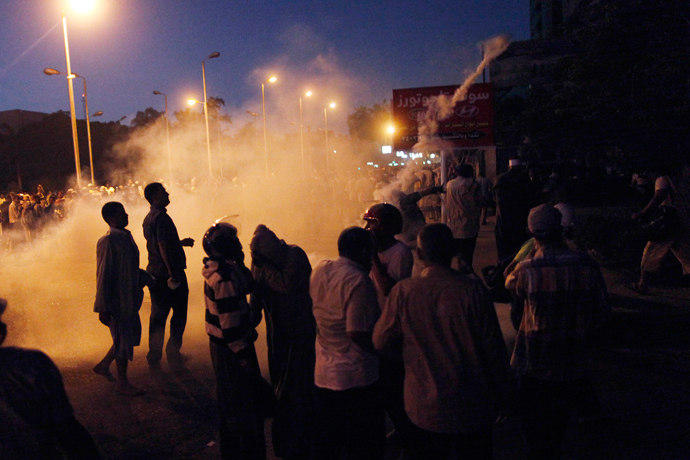 On Monday, Egypt's prosecution ordered the closure of Muslim Brotherhood's Freedom and Justice Party HQ in Cairo after police found weapons inside the facility, AFP quoted a security official as saying. Police found "flammable liquid, knives and arms to be used against the June 30 protests," the official said. 
Brotherhood just told me 37 dead including children, army say one soldier dead on my way to republican HQ to try &verify anything #egypt

— Bel Trew - بل ترو (@Beltrew) July 8, 2013  
Members of the Freedom and Justice Party, of which Morsi is the leader, and the Muslim Brotherhood had gathered in various parts of Cairo in recent days in a display of support for Morsi who was ousted by the military on July 3rd following mass demonstrations calling for his removal.
#El-Beltagy, a #MuslimBrotherhood MP, says it was a "massacre" - police stormed sit-in during dawn prayers

— PaulaSlier_RT (@PaulaSlier_RT) July 8, 2013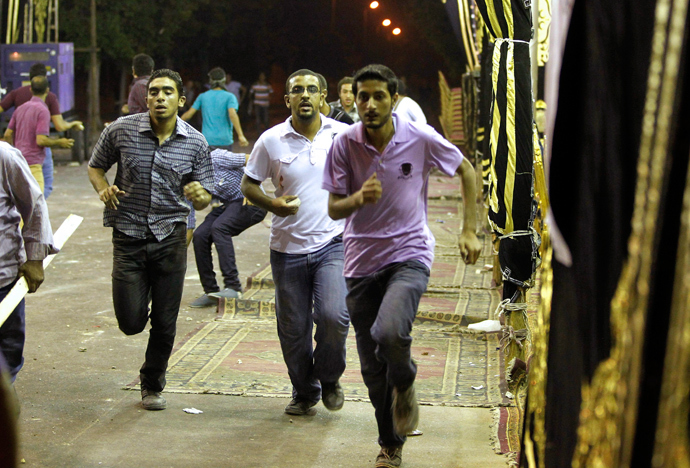 A stand off has emerged between the supporters and opponents of Morsi over who is the legitimate leader of this predominantly Arab country of over 84 million people.
Muslim Brotherhood spokesman Gehad El-Haddad told Al Jazeera that the Egyptian army and police began firing at sit-in protesters by the Republican Guard building in Cairo around 3:30 am local time. 
At the same time Egyptian military officials said that gunmen killed at least five Morsi supporters when a group tried to storm a military building in Cairo.
Reportedly 200 people were arrested after a "terrorist group" tried to storm Republican Guard facility. One officer was killed and several wounded during the attack.
Photo MT @AnEyeonEgypt: Some detained by military & police forces after the attack on #RepGuard. #Egyptpic.twitter.com/znLY4k6uVZ

— Lucy Kafanov (@LucyKafanov) July 8, 2013
"I saw with my own eyes the people who they shot at," said one protester, as quoted by Agence France Presse.
The witness said that several people had been injured.
Another protester said the security forces fired guns into the air and discharged several tear gas grenades.
"They wanted to disperse the protesters" who were determined to hold an indefinite sit-in, according to the protester.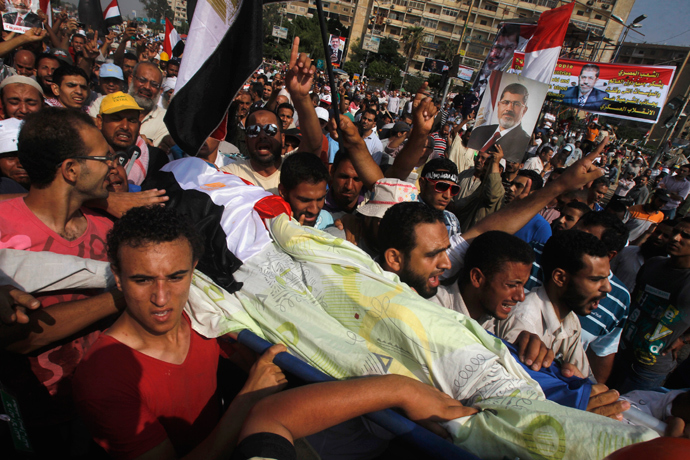 Protestors still trapped at #RepGuard HQ & some r taking refuge at nearby mosque. #Police_State#Military_Coup#Egypt

— Gehad El-Haddad (@gelhaddad) July 8, 2013
The dead and injured were being transferred to a makeshift hospital in Nasr city, RT's Paula Slier reported.
Rabba Field Hospital received 400 casualties in the first three hours conference, doctor confirmed at Muslim Brotherhood's press conference: 150 shooting injuries, 200 other types of injuries involving rubber bullets, and about 100 tear gas injuries. The hospital did not have enough medical supplies to help all the injured. 
Muslim Brotherhood leader Mohammed Badie said that the army chief wanted to drive the country to the same fate as Syria, Reuters reported.
Turkish Foreign Minister Ahmet Davutoglu has condemned violence in Cairo, adding that the incident was a "massacre".
"I strongly condemn the massacre that took place in Egypt at morning prayer in the name of the fundamental human values which we have been advocating," Davutoglu said on Twitter.
Egypt's liberal politician Mohamed El Baradei has also condemned all violence in the country, saying that Egypt is in "dire need" of reconciliation.
"Violence is not the approach no matter what its source, and it must be strongly condemned. I call for an immediate independent and transparent investigation," he wrote on Twitter.
On Friday in the same place, four Islamists were shot dead by troops.
Egypt's first democratically elected leader, Morsi lasted just a year in power.
You can share this story on social media: