Egypt's Constitutional Court looking to impeach Morsi - reports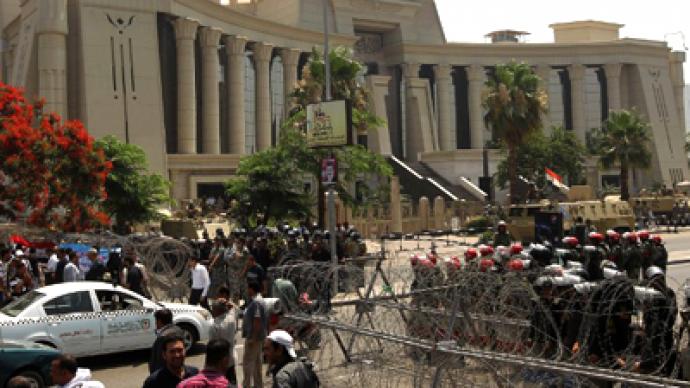 Egypt's Constitutional Court is reportedly considering the possibility of impeaching President Mohamed Morsi for violating his oath and undermining the country's constitutional foundations.
According to a representative of the court, "the judges are prepared to exercise the right to shift the head of state after he flouted the laws and constitution," local media reports.On Thursday, Morsi made several decrees affecting the country's constitution that, he said, would safeguard Egypt's "revolutionary" future. One of the decrees suggests that no laws or declarations passed by the president from the time of his inauguration until a new parliament is elected can be overturned by any authority, including the judiciary.A head of state can usually be impeached for treason and other serious criminal offenses and for breaching the constitution.The Egyptian situation is complicated by the constitution, which was suspended in March 2011, after the revolution and the resignation of President Hosni Mubarak. In the aftermath, a new law of the land has not been worked out.The new draft constitution was initially expected to be finalized by December 5, but Morsi's latest decree gave the body two additional months to complete the document. Egypt will not hold parliamentary elections until the new constitution is completed and passed by a referendum.Among other changes, Morsi dismissed Prosecutor General Abdel-Meguid Mahmoud, replacing him with Talaat Ibrahim for a four-year term. Morsi had previously attempted to remove Mahmoud for his part in the acquittal of Hosni Mubarak-era officials, but Mahmoud said he had no intentions to leave his post at that time.Meanwhile, an influential group of Egyptian judges has held an emergency meeting, calling Morsi's latest moves an "assault on the country's law and the independence of the judiciary."Egypt Judges Club Chairman Counselor Ahmad al-Zind said Morsi's decree "pains the nation" and that "the Egyptian people should decide their future."Although the decree giving Morsi unprecedented powers has been met with widespread celebrations in front of the Egyptian High Court in Cairo, leading opposition figures strongly denounced the move, accusing the president of trying to make himself Egypt's "new pharaoh.""We are calling on all Egyptians to protest in all of Egypt's squares on Friday," said lawyers syndicate boss Sameh Ashour during a joint press conference with Amr Moussa and Nobel Peace laureate Mohamed ElBaradei.
You can share this story on social media: