Egypt's top court goes on strike over Islamist pressure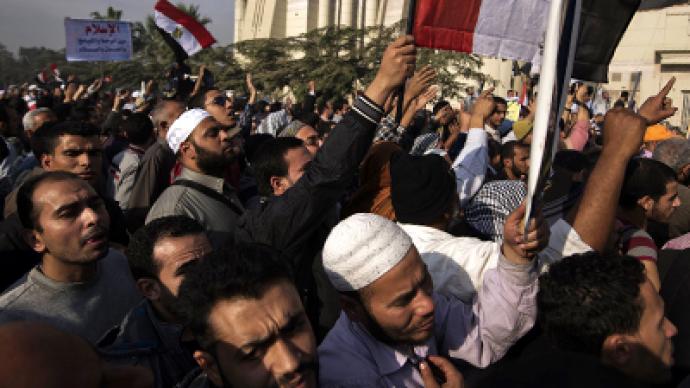 Egypt's highest court has gone on an open-ended strike after putting off the decision on the dissolution of the Islamist-controlled Constituent Assembly and upper house of parliament, as thousands of pro-Morsi protesters gathered outside the court.
"The Supreme Constitutional Court judges now have no choice but to declare the suspension of the hearing until they can continue their session and rulings without any psychological and material pressures," read the statement by the Supreme Court quoted by local news website nile.eg.The strike by the Supreme Constitutional Court comes amid the unfolding political crisis between the judiciary and President Mohammed Morsi who issued decrees on November 22 giving himself sweeping new powers and granting himself and the Islamist-dominated Constituent Assembly immunity from the courts.The judges from the Supreme Constitutional Court now join their colleagues from the highest appeals court and its lower sister court, as well as judges from other tribunals who suspended their work in protest of what they see as President's Morsi's assault on the judiciary.Members of Egypt's Judges Club, which represents Egyptian judges, agreed on Sunday evening to boycott the constitutional referendum due to take place December 17 and refuse to take part in supervising the vote, judicial sources told Al-Ahram news website.
Islamist protesters attempted to prevent judges from entering the Supreme Court, which was expected to rule later on Sunday whether the assembly that approved the draft of the country's constitution should be deemed illegitimate, and disbanded.The demonstrators installed a platform in front of the court building, from where they chanted slogans hostile to the court and its judges through loudspeakers, Ahram Online reported.   The area nearby the court was surrounded by scores of police and armored vehicles, along with ambulances and fire brigades.The Constitutional Assembly had to sit through the night on Thursday to agree the 234 article Sharia-based constitution draft. The document was approved by 85 out of the 100-members of the assembly after a 13-hour session.However, even if the Constitutional Court manages to dissolve  the Assembly, it is not clear is that would cancel the popular vote set to take place in two weeks.The president has yet to sign the draft, which sparked mass outrage among anti-Morsi protesters, who claim that the new constitution is "too Islamist".This came as pro-Morsi demonstrators shouted "The people support the president's decision!" and held posters reading "Yes to stability" and "Yes to Islamic law." The rally was organized by the Muslim Brotherhood and other Islamist parties.Meanwhile, the head of the European Parliament has proposed halting the organization's cooperation with Egypt, pointing out that economic sanctions may be the only way to deal with the current crisis.
You can share this story on social media: