Egyptian students clash with police over second mass food poisoning in one month
Published time: 30 Apr, 2013 01:47
Edited time: 30 Apr, 2013 02:58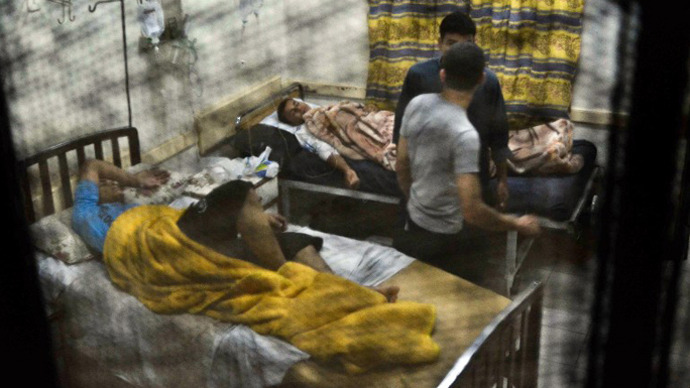 Students in Cairo blocked roads and clashed with police over a mass food poisoning case at an Azhar University dorm, in which 107 people were hospitalized as a result. This is the second such incident to hit the prestigious university in April alone.
Dozens of enraged students have blocked the Nasr Road in East Cairo, close to their university's dorms. The act was met with tear gas on the part of the police, who tried to disperse the crowd and re-open the congested road.
The students were expressing anger at how a large number of their peers all became sick following a meal of tuna and vegetables, according to one student's testimony to Ahram Online news website.
This is the second major case of food poisoning to affect the same dormitory in just the month of April. On April 1, around 500 people had been poisoned by the food at Azhar University's cafeteria. This had also led to mass demonstrations, in which the students demanded, among other things, the sacking of a Grand Imam responsible for the religious educational framework at Azhar. They were heard chanting against him, according to Al Jazeera.
Instead of what the students wanted, however, the President of the university was sacked, leading to an investigation that remains open today.
Egypt's Prime Minister Hisham Qandil has said he wants a fresh investigation.
Founded over a thousand years ago as a center for Islamic learning, Azhar University was among the first in the world to combine multi-disciplinary learning with religious subjects and survive as a modern university. Today it is the foremost center for the study of Arabic literature and Islamic thought in the world.