Cairo clashes leave over 60 injured (PHOTOS)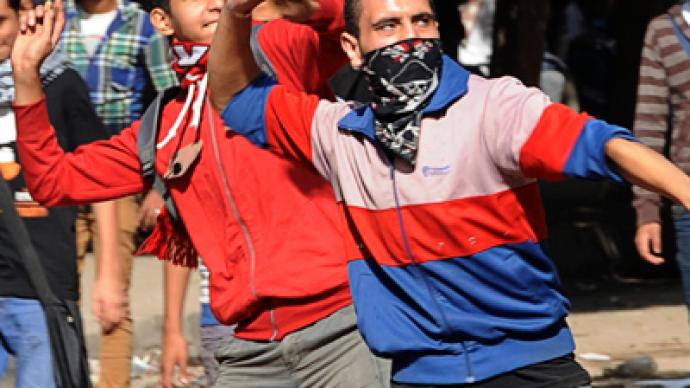 At least 61 demonstrators have been injured by law enforcement agents during violent clashes in Cairo, the Egyptian Ministry of Health has reported. However, activists estimate the figure to be much higher.
­Skirmishes began on Monday night and continued into early Tuesday as police continued their assault on what started as a peaceful rally to mark the one-year anniversary of the Mohamed Mahmoud Street violence that left more than 40 people dead.
According to witnesses, heavily armed police units confronted the demonstrators on Qasr el-Aini, one of Cairo's main streets, pushing them back to the main square. Leading into the night, police continued to fire rubber bullets and tear gas at the protesters, who have been chanting "down with the Morsi regime."

Meanwhile the mob marched on the Muslim Brotherhood's Freedom and Justice office, chanting anti-Brotherhood slogans as they too were confronted by security forces.

The state media, citing the Interior Ministry, has reported that a number of officers have also been injured as protesters threw Molotov cocktails and rocks near the ministry building at soldiers while trying to break through security barricades. At least 19 people have been detained.
More mass protests across the country have been called for Friday. Egyptians are calling for the removal of the government, and more liberal representation in the Islamist-led Constituent Assembly, which was set up to write the country's new constitution.

Liberal activists also accused the Brotherhood of affiliating with the former military elite when police killed scores of anti-government protesters in November last year on Mohammad Mahmoud Street, next to Tahrir Square.
The Brotherhood's Mohamed Morsi became the country's first elected civilian president in June amid a a growing disparity between the country's Islamists and liberal secularists.
People protest to mark the one-year anniversary of fatal clashes on Mohamed Mahmoud Street, near the Interior Ministry in Cairo November 20, 2012 (Reuters / Mohamed Abd El Ghany)
A protester throws a rock towards riot police on Mohamed Mahmoud Street, during a protest to mark the one-year anniversary of fatal clashes on the street, near the Interior Ministry in Cairo November 20, 2012 (Reuters / Mohamed Abd El Ghany)
Youths move a traffic barrier during a protest to mark the one-year anniversary of fatal clashes on Mohamed Mahmoud Street, near the Interior Ministry in Cairo November 20, 2012 (Reuters / Mohamed Abd El Ghany)
Riot police stand behind a barrier during a protest to mark the one-year anniversary of fatal clashes, in the vicinity of the Interior Ministry in Cairo November 20, 2012 (Reuters / Mohamed Abd El Ghany)
A protester holds a scarf that was stained on Tuesday with the blood of a protester, during a protest to mark the one-year anniversary of fatal clashes on Mohamed Mahmoud Street, near the Interior Ministry in Cairo November 20, 2012 (Reuters / Mohamed Abd El Ghany)
A protester throws a tear gas canister, which was earlier thrown by riot police, during a protest to mark the one-year anniversary of fatal clashes on Mohamed Mahmoud Street, near the Interior Ministry in Cairo November 20, 2012 (Reuters / Mohamed Abd El Ghany)
Protesters walk on the blocks from a barrier wall blocking passage to Mohamed Mahmoud Street, during a protest to mark the one-year anniversary of fatal clashes on the street, near the Interior Ministry in Cairo November 20, 2012 (Reuters / Mohamed Abd El Ghany)