Thirst for knowledge: Crowds of students rage in Chile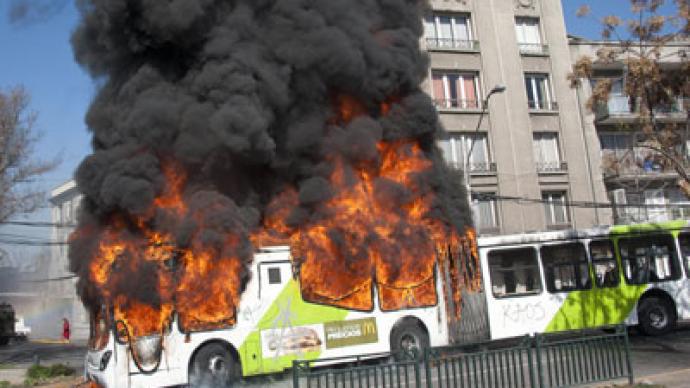 Police in Santiago have used water cannons as thousands of students took to the streets, raging against the government's policy on education. Vandals set three city buses ablaze amid violence that left many injured. Dozens of rioters were arrested.
Authorities say leaders of Wednesday's protests cannot be exempt from responsibility for the burning of the Transantiago mass-transit system buses, during which 75 people were arrested and 49 police were injured.Reports describe one such attack, during which passengers had to take cover on the floor while hooded vandals hurled rocks at the windows."It's unacceptable," said transportation minister Pedro Pablo Errazuriz according to AP. "There are millions of people who use the Transantiago and these heartless people are taking the wrong attitude by burning the buses and putting passengers and the driver at risk."The transportation ministry reported damage of approximately 400 million pesos (US $836,000).Students say their demonstration was motivated by a lack of response to their demands to make public education accessible to all. They are calling for changes to the tax system so that the rich pay more. They also say that change will only come when the private sector is supervised and education is no longer a for-profit business.The authorities have vowed to stamp out what they have called the "radicalizing demonstrations", but the message has so far only fueled further anger.Both sides of the conflict have toughened their stance. President Sebastian Pinera has refused to radically change the education system, which still fails the public with poor quality public schools, expensive private universities, poor teaching standards and banks that offer education loans at such high interest rates that most Chileans cannot afford them.
You can share this story on social media: