Ecuador does not recognize Ukraine's 'illegitimate' govt - Correa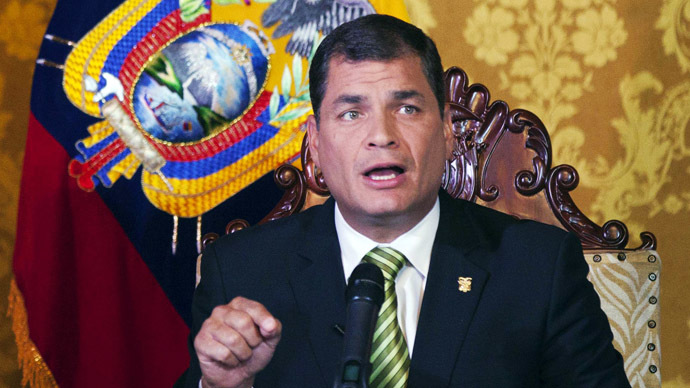 Ecuador has said it will not deal with the coup-appointed government in Kiev and has called for fair elections. President Rafael Correa declared he would only negotiate with a "legitimate government" that represents the will of the Ukrainian people.
In his weekly address to the Ecuadorian people, Correa explained why Ecuador had abstained from the UN General Assembly vote Thursday that passed a resolution condemning Crimea's union with Russia.
"We will not fall for a farce, we will only deal with a legitimate government," said Correa, adding that Ecuador does not recognize the current government that is the product of a coup d'état. To win the support of Ecuador, Ukraine should hold democratic elections and establish a legitimate government chosen by the Ukrainian people, Correa said.
Moscow has also decried the coup-appointed government that came to power in Kiev at the end of February following weeks of bloody protests in the Ukrainian capital's Independence Square.
"The current government is the product of devious machinations, to put to it mildly, clearly supported by hypocritical rhetoric from the West," Correa said.
On Crimea's decision to become a part of Russia and break from Ukraine, he said the region was "historically Russian," but the Crimean referendum "does not change the constitution."
With this in mind, Correa explained that Ecuador could not accept the stance of the Ukrainian government - which he described as an extension of the United States - or Moscow's position until Crimea's status had been clarified.
Ecuador, along with 58 other nations, abstained from a UN General Assembly vote Thursday that condemned Crimea's referendum to join Russia as "illegal." The resolution was supported by 100 nations, while 11 opposed it.
Armenia, Belarus, Bolivia, Cuba, North Korea, Nicaragua, Sudan, Syria, Venezuela and Zimbabwe all voted against the resolution.
Unlike UN Security Council resolutions, a General Assembly resolution is not legally binding.
Russia condemned the UN assembly vote as "confrontational" and undermining the referendum and the right to self-determination of the Crimean people. The initiative for Crimea to reunite with Russia came from the Crimean people themselves, not from Moscow, said Russian Ambassador to the UN Vitaly Churkin.
Russia also previously vetoed a Security Council resolution that said the Crimean referendum to join Russia would have "no validity" in an emergency session held the day before Crimea headed to the polls.
On March 16, an overwhelming majority of Crimean residents voted in favor of joining the Russian Federation, in the wake of bloody protests in Kiev that ousted Ukrainian President Viktor Yanukovich.
You can share this story on social media: