Ecuador to decide on political asylum for Assange by end of week
Ecuadorian President Rafael Correa will make an "informed decision" after a meeting on Wednesday over whether to grant political asylum to WikiLeaks founder Julian Assange, he said in a televised address Monday.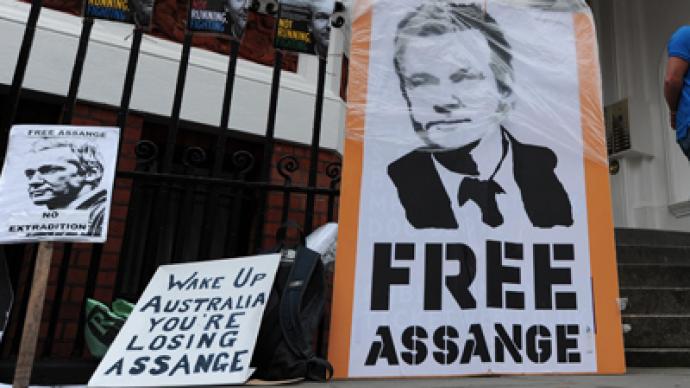 "We expect to have a meeting on Wednesday [with Foreign Minister Ricardo Patino and diplomats in London] and I hope to make an announcement before the end of the week," Reuters quoted Correa as saying. "We have to review the process in Sweden. We have to look at the possibility that he may be extradited to the United States, that there may be a secret court there, that he may face the death penalty."Correa sympathizes with Assange, but still respects the British legal system and international law, he said, adding that his government has gathered enough information to make a "responsible decision."Assange claimed asylum at Ecuador's London embassy on June 19 in a bid to avoid extradition to Sweden, where he is wanted for questioning on sex crime allegations. He claims he will be extradited from Sweden to the United States to face charges of espionage over Wikileaks' publishing of thousands of US military intelligence documents.Before taking refuge at the embassy, Assange had previously spent 18 months under house arrest trying to appeal a court extradition ruling. In July, Ecuadorian foreign minister Ricardo Patino said the decision on Assange's asylum claim would be made after the London Olympic Games, which ended on Sunday President Correa met with Assange's mother, Christine Assange, who traveled to Ecuador to plead for her son's asylum request together alongside Spanish judge Baltasar Garzon. Garzon heads the legal team defending WikiLeaks and its founder. It is unclear how Assange would travel to Ecuador if he were granted asylum. British police are forbidden from entering the embassy without Ecuador's approval, but Assange has no way of boarding a plane to Ecuador without traveling across London and exposing himself to arrest for violating his bail terms.Two London police officers are currently stationed outside the embassy.
You can share this story on social media: