Deadly Ebola virus claims more lives in Uganda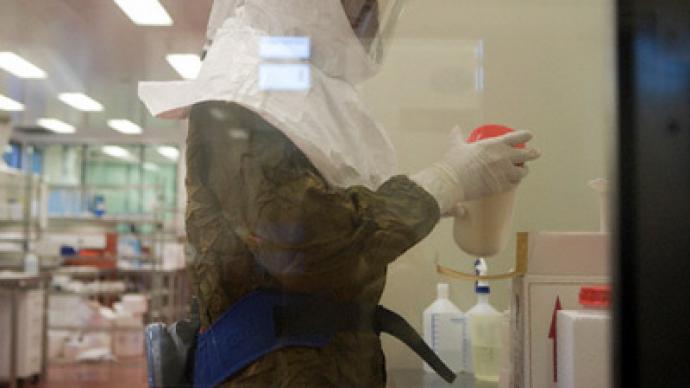 Ugandan authorities are struggling to contain an outbreak of Ebola in the western provinces of the country. Suspected cases are refusing treatment, fearing they may get infected with the virus in hospital if they don't already have it.
Officials say four more people suspected of being infected with the virus have died in the towns of Kadagi and Mulago. If these cases are confirmed, it will bring the number of victims of the deadly virus to 18.
"Accumulatively to date, there are 36 suspected or confirmed cases," says the World Health Organisation's Gregory Hartl.
Hartl said medical officers have begun contact tracing, where everyone who has been infected, or is suspected of being infected with Ebola, as well as everyone they have been in contact with, are being placed under quarantine for 21 days.
But medics are facing difficulties when it comes to containing the spread of the disease.
Many of those suspected of being infected refuse to go to hospital fearing they will contract the virus in clinics.
In Kibaale district, poor hospital conditions have apparently forced suspected Ebola patients to break out of isolation wards protesting their treatment.
In a statement released on Monday, the Ugandan health ministry said some people refused to seek treatment "because they believed that the cause of the illness was due to 'evil spirits'".
Ugandan newspaper New Vision says panic is spreading through the Kanungu disctrict after the body of a health worker who died from the virus was transported from another town to be buried in her home village. Health officials say they objected to the movement of the body, fearing infection could spread to more people, but were unable to stop it.
The World Health Organization is closely monitoring the virus outbreak, and has confirmed it is the Ebola Sudan strain.
It is the same strain which claimed 224 lives in Uganda in 2000, and has caused five outbreaks in Africa since 1976. Typically, it has a fatality rate of 50 per cent.
The difficulty in immediately diagnosing Ebola lies in the symptoms which are indistinguishable from lots of other diseases in this part of Equatorial Africa.
Contamination occurs through contact with the bodily fluids of Ebola patients, with the incubation period lasting roughly two days to two weeks.
Experts claim Ebola's extreme virulence makes it containable as the victims die faster than the disease can spread.
The latest outbreak in Uganda has raised concerns, not just in the country where an emergency task force has been set up to contain the spread of the disease, but also in neighboring countries.
In Tanzania, the Ministry of Health and Social Welfare has put the public on alert to take precautions.
However, they warned people not to panic, as there have been no registered cases within Tanzania.
Similar warnings have been issued in Democratic Republic of Congo, where local newspaper reported people fleeing villages and towns near the border with Uganda.