7.4 earthquake hits Mexico near Acapulco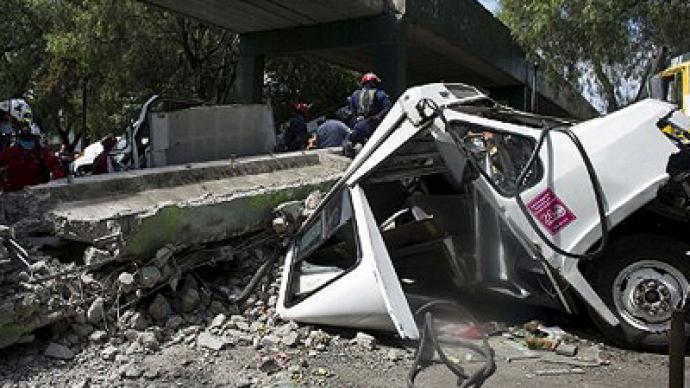 A strong earthquake has rocked Mexico shaking buildings and forcing people out into the streets. The US Geological Survey says the quake happened 193 kilometers east of Acapulco on Mexico's Pacific coast.
Initial reports suggested that the quake was 7.6 magnitude. Later, however, the USGS downgraded the figures to 7.4, also saying that the epicenter was 17.5 kilometers underground. A 5.1-magnitude aftershock was felt in Mexico City following the earthquake.The country's President  Felipe Calderon said on his Twitter account that no serious damage had been caused by the strong quake. "The health system is operating normally, except for some broken glass and other minor damage," he also posted.However, approximately 800 houses have been damaged in the southern state of Guerrero, with another 60 having collapsed, according to the latest reports. The state governor, Angel Aguirre, told Milenio TV that some of them had collapsed. More than 60 homes have been damaged in Ometepec alone. The city is located only 25 kilometers from the quake's epicenter. No fatalities have been reported by local emergency officials. Mexico City Mayor Marcelo Ebrard posted on his Twitter that the water system and other "strategic services" were not experiencing any problems.Some buildings in the capital's trendy district of Condesa were cracked. According to witnesses, residents raced out of their buildings with young children and dogs in their arms. The telephone service was reported to be down throughout the area where the quake was felt.Residents of the popular Pacific resort of Acapulco reported that tourists started running out of cafes and restaurants when the quake struck."I swear I never felt one so strong, I thought the building was going to collapse," Reuters quoted Sebastian Herrera, a 42-year-old businessman from a Mexico City neighborhood which was hit hard in the devastating 1985 earthquake, as saying.
The quake was felt in southern Oaxaca State next to the epicenter in Guerrero. No major damage was caused there according to the local governor as cited by Mexico TV.The inland earthquake would not generate a large powerful tsunami. That is according to the Pacific Tsunami Warning Center, who nevertheless added that the possibility of some local tsunami effects remains.The quake was reportedly felt in Guatemala, which borders Mexico on the south-east.In December 2011 a 6.5 magnitude earthquake also hit Mexico's western Guerrero state, claiming the lives of three people. The quake was felt in parts of nine states.An 8.1 magnitude quake in 1985 killed as many as 10,000 people.The recurring earthquakes are due to some parts of Mexico City lying on the shaky soil of a former lake bed.
You can share this story on social media: