Earth Hour: LIVE UPDATES (PHOTOS)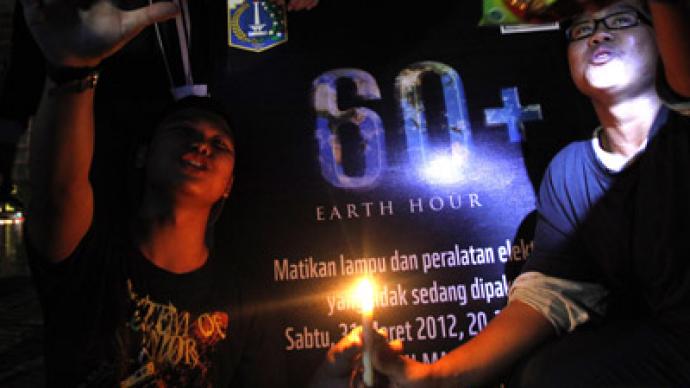 GMT 03:33:Earth Hour reaches America's West Coast. Los Angeles, San Francisco, Seattle and Vancouver go dark for an hour. GMT 02:40: Earth Hour reaches Mexico City.
The Angel of Independence is seen with its lights turned off, in participation with Earth Hour, in Mexico City March 31, 2012. (Reuters / Bernardo Montoya)GMT 01:30: Lights go out at Chicago's Wrigley Field and Willis Tower. ­GMT 00:40: The Big Apple's a dark apple now. The Empire State Building and Times Square have switched off. Other cities on the East Coast – Philadelphia, Boston, Washington, Miami – are doing the same.
A combination photo shows the Empire State Building with the lights turned off (L), and with the lights switched back on in participation with Earth Hour, in New York, March 31, 2012. (Reuters / Andrew Burton)­GMT 23:36: Rio marks Earth Hour by turning off the lights on its towering Christ the Redeemer statue. Also celebrating are Sao Paolo, Buenos Aires and other cities in South America.
This combo of pictures shows Buenos Aires' Planetarium with the lights on (top) and with the lights off (bottom) during the annual Earth Hour event on March 31, 2012. (AFP Photo / Alejandro Pagni)­GMT 20:31: Earth Hour reaches Reykjavik, Iceland.­GMT 1930: The UK joins the Earth Hour celebration. Big Ben, Buckingham Palace, Tower Bridge, and St. Paul's Cathedral are just a few of London's landmarks to stay dark for the next hour.­GMT 1832: Lights are out at Berlin's Brandenburg Gate. Activists from the WWF lit some 5,000 blue and green candles in the form of a globe in front of the monument before city officials switched off the lighting.
WWF_Deutschland: Lights are off now at Brandenburger Tor #Berlin for #Earthhour 2012!GMT 1830: More than 230 monuments and major gathering points in Paris dimmed the lights for an hour, including Notre Dame Cathedral, the Arc de Triumph, as well as fountains and bridges over the Seine. For security reasons, the Eiffel Tower went dark for only five minutes.­GMT 1809: Paris prepares to switch off the illumination of its landmark Eiffel Tower. At the same time, St Peter's Basilica in Rome will go dark too.
Paper mache pandas set up by members of WWF (World Wildlife Fund) association are pictured on March 31, 2012 in front of the Eiffel Tower in Paris, during the annual "Earth Hour" event (AFP Photo / Kenzo Tribouillard)­GMT 1718: As Earth Hour travels around the globe, the capitals of Israel, Finland and Madagascar prepare to go dark. Overall, more than 5000 cities are taking part in the annual event­GMT 1636: Airports in Russia's south turn the lights off in honor of WWF's Earth Hour event­GMT 1630: Lights out in the Russian capital! Moscow joins the World Wildlife Fund's global awareness event.
Youths hold candles as they participate in Earth Hour after lights were turned off at the Opera House in Hanoi March 31, 2012 (Reuters / Kham)­GMT 1530: The world's tallest skyscraper, Burj Khalifa in Dubai, goes dark.GMT 1400: In the Indian capital New Delhi lights at three iconic monuments – India Gate, Qutub Minar and Humayun's Tomb – are being switched off, while in Mumbai people gather on the streets to light candles.­GMT 1230: Philippines joins the Earth Hour celebration. Malaysia's landmarks – The Petronas Twin Towers and the Kuala Lumpur Tower – switch off their lights.
A combination picture shows Prambanan temple before (top) and during Earth Hour outside Yogyakarta city, Central Java March 31, 2012 (Reuters/Supri)­GMT 1220: The Great Wall of China is lit up shortly before the lights go off to mark 'Earth Hour' in north of Beijing.­GMT 1130: Indonesia joins the celebration of Earth Hour for the fourth time. Some 26 cities across Java, Sumatra, Sulawesi and Kalimantan are taking part – a significant increase from just seven cities last year.
Peoples form the Earth Hour symbol with candles in Surabaya, East Java March 31, 2012 (Reuters/Sigit Pamungkas)­GMT 1030: Seoul's landmark – The Seoul Tower – goes dark.GMT 0930: The Sydney Opera House and Harbour Bridge in Australia follow suit. "What began in Sydney as a simple idea to raise awareness of climate change – to switch off the lights for an hour – has become a global success," Australian Prime Minister Julia Gillard said.
A combination picture shows power lines crossing in front of the Sydney city skyline on March 29, 2012 (top) before Earth Hour, and during Earth Hour March 31, 2012 (Reuters/Tim Wimborne)­GMT 0830: The Auckland Sky tower, New Zealand's tallest skyscraper, becomes the first major world monuments to cut its lights. Fiji also switched off their lights where possible despite the devastating floods.GMT 0730: The tiny island nation of Samoa becomes the first to go dark for Earth Hour.GMT 0720: We are starting our live update on the annual Earth Hour event as hour by hour the Earth plunges into darkness in a move to raise awareness of climate change. This year, the action is dedicated to the Arctic.