Dutch Queen Beatrix abdicates in favor of her son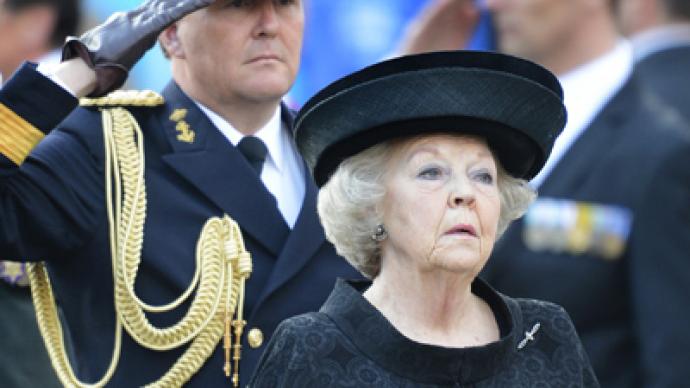 Dutch Queen Beatrix, who has reigned for 33 years, has abdicated her throne in favor of her eldest son, Prince Willem-Alexander.
In her televised address Beatrix, the oldest ever Dutch monarch, explained that she was stepping down because she felt her son was ready to take her place on the throne."Responsibility for our country must now lie in the hands of a new generation," Beatrix said."I'm not standing down because public service is too heavy for me, but because of the belief that responsibility for our country should be in the hands of a new generation," she added.Prime Minister Mark Rutte addressed the nation after the announcement, praising the Queen for her years of service."Since her coronation in 1980s she's applied herself heart and soul for Dutch society," Rutte said. "She has always done her utmost for Dutch society, being visible and with enormous energy." The coronation of Willem-Alexander will take place on April 30. The 45-year old Prince will become the first King of the Netherlands since the death of his great-great grandfather William III in 1890.The move is not expected to provoke a constitutional crisis, with the modern day post being seen as largely ceremonial and holding very few powers.Her Majesty Queen Beatrix of the Netherlands, who will be 75 on January 31, came to the throne in 1980 following her mother's, Queen Juliana, abdication after 31 years as head of state on her 70th birthday.The past decade was not the easiest for the queen personally.  Her husband, Prince Claus, died in 2002. Just a year later her mother passed, followed by father's death in 2004. One of the most shocking moments for Beatrix was in 2009 when a man ploughed his car into a crowd of people during a Queen's Day parade, killing eight. The abdication comes a year after another personal tragedy, when the Queen's second son, Prince Friso, was hit by an avalanche while skiing in Austria. He is still in a coma.The changes to the throne coincide with the 200th anniversary of Holland's monarchy, the House of Orange. The nation is set to celebrate the event at the end of the year, Beatrix said.
You can share this story on social media: