Duma scraps minimum voter turnout threshold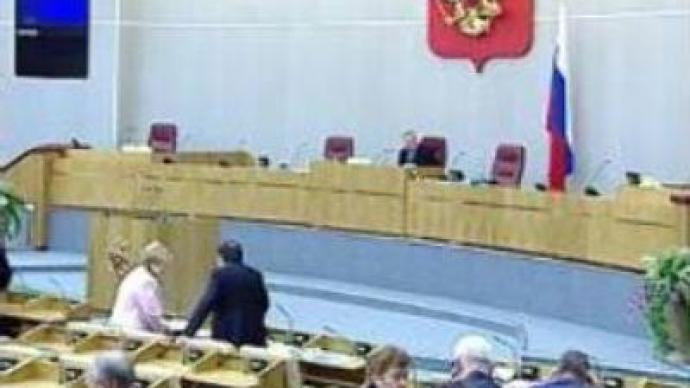 Russia's lower house of parliament, the State Duma has approved a series of amendments to electoral legislation. The bill features scrapping for minimum voter turnout threshold.
The changes follow a large debate in the State Duma. It was a very quick vote.On Wednesday State Duma Deputies approved amendments to the electoral legislation in two readings. On Friday the third, and the final reading has been passed.The bill contains two major changes. The cancellation of the threshold for minimum voter turnout is the most significant one. The current benchmark of 20 percent will only be applied during referenda. While at other types of election a simple majority will be needed for a candidate to win.The United Russia party's Mikhail Emelyanov says the measure is standard for democratic countries.
"Most countries do not have such a notion – a threshold turnout! This is one of the democratic principles. In a democratic environment those who refuse to vote cannot cancel the votes of those who cast them. This is the essence of democracy."
While the communists claim the timing of the bill's approval is no accident.Ivan Melnikov form the communist party said:
"A Communist Party faction is categorically against this law. We believe, the election legislation is not to be changed. It should not to be drastically changed ahead of important federal elections. We are against adjusting the election legislation and federal laws in order to get a desired outcome. There are several harmful proposals. The two worst are abolishing the threshold turnout of 20 percent and imposing limits – or in fact a ban – on proper election campaigning."
That's the second major point of the bill.It says a registered candidate or an election bloc must not use television airtime to spread negative information about other candidates or urge people to vote against them.One of the bill's most active supporters, Aleksey Mitrofanov from the Liberal Democratic party emphasized, the ban is effective only during TV campaign advertisements."Criticism towards a political opponent during TV debates and in newspaper articles is allowed, only TV promos will be affected by the bill."342 deputies have voted for the new bill while 99 – against.The document is yet to be approved by the upper chamber of the Russian Parliament – the Federation Council – and is still to be signed by the President before becoming law.
You can share this story on social media: