Drink driving crackdown looms after deadly Moscow crash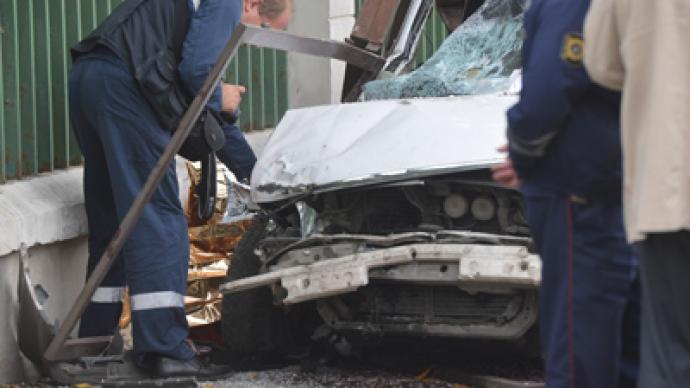 Russian MPs have said that drink-driving accidents causing massive deaths should be made equal to terrorism. The proposal comes after a drunk Moscow driver, accused of killing seven people, five of them in their teens, gets arrested.
Aleksandr Maksimov, who rammed a bus stop late on Saturday night, killing seven people and injuring three, has not been allowed to remain in hospital until his trial begins."There is enough ground to suspect that he might attempt to escape from prosecution and trial, might attempt to influence witnesses' and victims' testimony," investigators explained.Maksimov sustained head injuries in the car accident that shattered a bus stop in west Moscow. The white Toyota dragged the construction for several meters, with everyone who'd been waiting for the bus being pulled under it.Five of the seven people killed in the accident were orphans aged 15-17; the two others were their guardians. The group was making their way back from a Moscow art festival for disabled children and teenagers.Maksimov was drunk at the time of the accident. He lost control of the vehicle whilst trying to overtake traffic in other lanes. Later he said he had been drinking for two days. Preliminary tests show alcohol levels in Maksimov's blood (1.55 per mille) were equal to an average sized man having quickly consumed one liter of vodka, investigators say. The final results will be available in ten day's time, but officials already suspect that the man did not limit himself to only one alcoholic drink.If Maksimov is found to be guilty, he may face up to nine years in prison. In 2010, he already had to give away his driving license for drunk driving.Following the public outrage, Russian MPs have said enough is enough, promoting legislation that comes down hard on reckless drivers. Shamsail Saraliyev of the United Russia party pointed out that in 2011 over 2000 people in Russia were killed by intoxicated drivers, while since the beginning of this year this number has already exceeded 2300 people.Saraliyev also said drunk driving leading to multiple deaths is "no different from terrorism." Some MPs propose giving drunk drivers as much as life jail terms. Another option on the table is to make such killings equal to deliberate murder, which would increase the prison term from 9 years to 15.Liberal Democrats believe cars should be confiscated from those convicted of such a crime. In other suggestions, drivers could be stripped of their licenses for life if they get caught drunk at the wheel for a second time. The fine for the initial misdemeanor is likely to be increased from 5,000 roubles ($160) to 100 thousand (over $3,200).Calls to toughen legislation have found approval from both Prime Minister Dmitry Medvedev and President Vladimir Putin. MP's have said that amendment proposals will be ready within a week.
You can share this story on social media: