Draft UN Security Council resolution on Kosovo circulated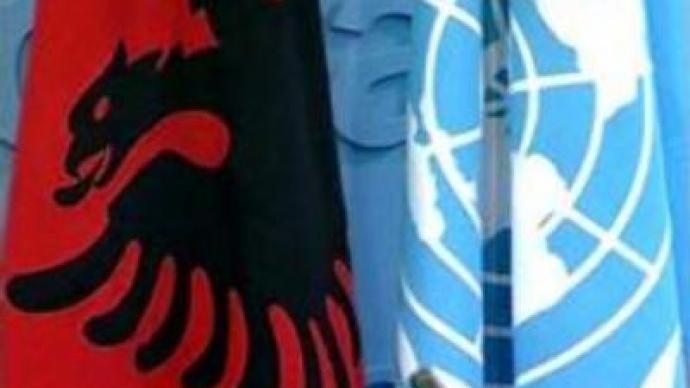 Russia has said it may veto a draft UN Security Council resolution that would give Kosovo virtual independence. It comes on the eve of the U.S. Secretary of State, Condoleezza Rice's visit to Moscow.
The European Union and the United States have circulated a draft UN Security Council resolution, drawn up by U.N. Envoy Martti Ahtisaari, providing for the effective independence of Kosovo under the supervision of the European Union.Russian Foreign Ministry spokesperson, Mikhail Kamynin, says the solution should be based on a mutual agreement reached by conflicting sides.
"We are studying the project. But one may see obvious forced and ungrounded clues and provisions in it. We will definitely come up with a detailed response after a thorough study. At the same time the Security Council should concentrate on analysing its trip to Kosovo with a purpose of monitoring the implementation of Resolution 1244. Our position remains unchanged. The only real solution to the problem is agreement by all parties, rather than mechanisms forced on them from the outside. First of all, conversations should be held with the parties. That is why Resolution 1244 has to remain at the basis for finding a compromise at the moment which is clearly stated in the Resolution,"
Mikhail Kamynin stated.Meanwhile, the Russian Ambassador to the United Nations, Vitaly Churkin, says a possible solution could come from the European Union's involvement.
"The European Union has carried out a great deal of work and is ready to exert efforts and allocate means to continue a positive political process in Kosovo. And we welcome it. Besides, both the Serb leadership and the Kosovo leaders keep saying that they see a European perspective for themselves. This brings us close to a solution that would help avoiding destabilization of international relations,"
Mr Churkin stressed. Presently, diplomatic eyes are on the forthcoming visit of the U.S. Secretary of State Condoleezza Rice to Moscow. She is expected to address the Kosovo problem.
You can share this story on social media: