Dozens injured in clashes over Jerusalem mosque renovation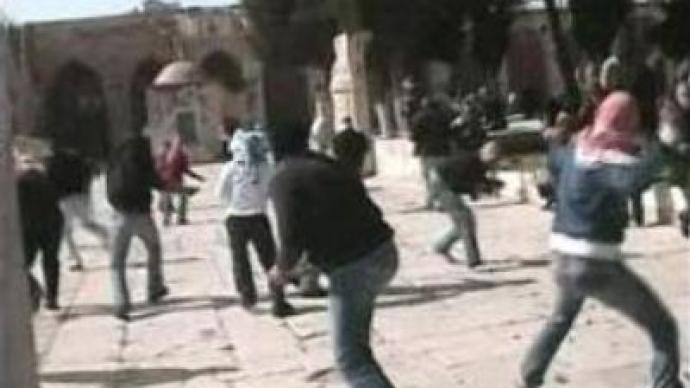 Dozens of people have been injured during violent clashes between Israelis and Palestinians in Jerusalem, over the Israeli renovation of the Al-Aqsa mosque. Protestors demanded that Israel stop its planned excavation.
Hundreds of Muslim worshippers gathered to protest against planned Israeli renovations near the Temple Mount in Jerusalem's Old City. They fear the holy site could be damaged.The Temple Mount compound is home to the golden-capped Dome of the Rock shrine and Al-Aqsa mosque. It is sacred for Muslims, who believe the Prophet Muhammad ascended from here to heaven.Bottles and stones were thrown at Israeli police, which had to use stun grenades and rubber bullets to disperse protesters.The demonstrations began after midday prayers on Friday when worshippers demanded Israel stop its planned excavation.As many as 300 protestors barricaded themselves inside the Al-Aqsa mosque.Police, who were stationed nearby, did not interfere. However, the clashes left 17 protestors and 15 police officers injured.Meanwhile, Hamas members in the West Bank city of Nablus and the Jabalia refugee camp in Gaza gathered to express their outrage.
'We can't remain silent in the face of this. We must confront it. We ask God to unite the Palestinians, with their rifles and tunnels, to remove the Al-Aqsa mosque from the excavation works,'
Nizar Rayan, Hamas Leader, claimed.However, Israel says the renovations are needed to safeguard the ancient structure. Officials have guaranteed no structural damage will be caused.Moreover, Israel accuses Muslim extremists of using the renovation work as a pretext to stoke anger against the Jewish state.The Temple Mount is also sacred to Jews who believe it is the site of their Biblical temples.Arab countries have appealed to the United Nations Security Council to put a stop to the excavation work. And UNESCO has urged Israel not go ahead with its plan.Excavations are set to continue into next week. Nevertheless, with both sides refusing to back down, there are concerns the violence will spread.
You can share this story on social media: