Dostoevsky museum in Moscow – insight into best-known masterpieces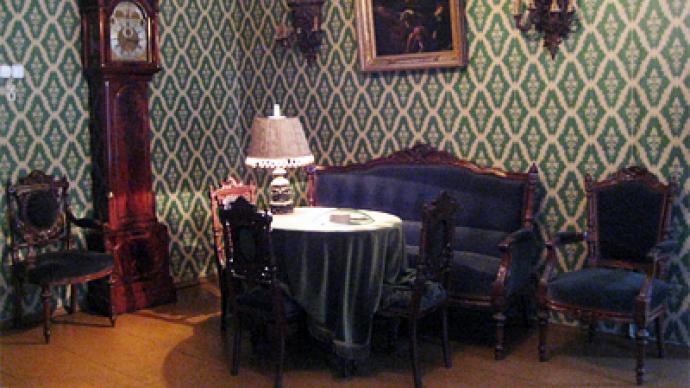 As Russians mark the 189th birthday of Fyodor Dostoevsky, RT shows you around his birthplace, figuring out how the famous writer developed such a love for tales from the dark side.
Although Dostoevsky is closely associated with St. Petersburg, he was actually born in Moscow. Philologists say that it was mostly Dostoevsky's childhood memories that have inspired many of his works, known for their penetration into the darkest recesses of the human heart.
Dostoevsky spent his early years in a tiny apartment on the grounds of Mariinsky Hospital, where his father worked as a physician. It is in this hospital that the future writer was born in 1821.Mariinsky was a hospital for the poor. Every day, young Fyodor observed long queues of the city's have-nots and, although his father strictly prohibited it, often talked to them. Their stories later served as the basis for some of his tales about the poor and the humble.After the Revolution, Dostoevsky's flat was turned into a museum, recreated according to descriptions written by Fyodor's younger brother Andrey.Its visitors can see the modest drawing room and the small bedroom which young Fyodor shared with his older brother Mikhail, with two chests serving as their beds. The museum also contains a wealth of family portraits, a charming array of wooden toys and the family library with works by classic Russian and European authors. The prize exhibits are the parish ledger recording the writer's birth, and his quill pen and signature preserved under glass.Dostoevsky lived in the flat until the age of 16, when he went to St. Petersburg to enter a military academy at the wishes of his father. However, the future writer felt unsuited to a military career and left the army after graduating to start writing. When he finished his first work, "Poor Folk," in 1846, he was hailed as the great new talent in Russian literature.Like some of his book characters, Dostoevsky experienced a volatile and dramatic life. He spent eight months in prison for being part of a liberal intellectual group, and after a mock execution was sentenced to four years of Siberian exile. He also suffered from an acute compulsion for gambling. A story goes that he completed his novel "Crime and Punishment" in a hurry because he was in urgent need of money after a gambling spree.He was simultaneously rushing ahead with another novel, "The Gambler," in order to satisfy an agreement with his publisher who, if he did not receive the work in time, would have claimed the copyright to all of Dostoyevsky's writings.
You can share this story on social media: