One more minute away from doomsday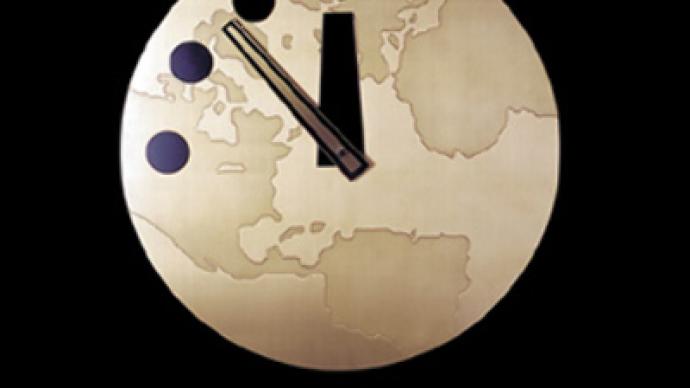 The hands of the Doomsday Clock have taken one step away from apocalypse. The symbolic timepiece now indicates humanity has 6 minutes to midnight – the figurative end.
The clock was created in 1947 by the Bulletin of the Atomic Scientists, founded by former Manhattan Project physicists after the atomic bombings of Hiroshima and Nagasaki.
Originally it was a representation of the countdown to zero – or nuclear explosion. However, with time the clock's meaning expanded to include the dangers of climate change and new technologies in the life sciences.
The decision to move the minute hand is made by the Bulletin's Board of Directors after consultations with its Board of Sponsors, which includes 19 Nobel Laureates.
This year's change is the first in the last three years. Since January 2007 the clock's hand unswervingly pointed at five minutes to midnight.
The Bulletin of the Atomic Scientists explained their decision to postpone destruction by one more minute by a desire to encourage "progress seen around globe in both key threat areas: nuclear weapons and climate change."
11:53 PM The initial setting of the clock in 1947
11:43 PM The earliest setting registered in 1991 after the US and Soviet Union signed the Strategic Arms reduction Treaty
11:58 PM The clock's closest advance to apocalypse came in 1953 after the US and Soviet Union tested hydrogen bombs
"For the first time since atomic bombs were dropped in 1945, leaders of nuclear weapons states are cooperating to vastly reduce their arsenals and secure all nuclear bomb-making material. And for the first time ever, industrialized and developing countries alike are pledging to limit climate-changing gas emissions that could render our planet nearly uninhabitable. These unprecedented steps are signs of a growing political will to tackle the two gravest threats to civilization--the terror of nuclear weapons and runaway climate change," – is explained in a statement on the Bulletin's official site.
At the same time, the scientists stressed that it's too early to breathe a sigh of relief as the clock is still ticking and the world is far from safe.
"By shifting the hand back from midnight by only one additional minute, we emphasize how much needs to be accomplished."
However, with the minute hand of the clock taking a step backwards for the first time in nearly two decades, it may be hard for some to contain a tiny spark of hope.
Read also – Doomsday Clock Shows New Time
You can share this story on social media: