Dmitry Medvedev answers questions from online audience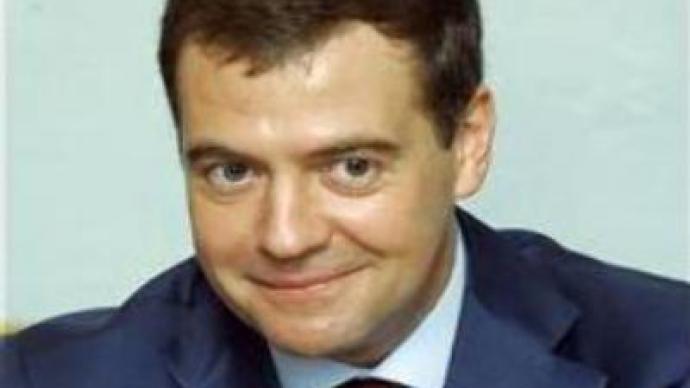 An Internet news conference on Russia's top priority national projects has been held in Moscow. For the first time, the country's First Deputy Prime Minister, Dmitry Medvedev, answered questions from the public online.
Dmitry Medvedev's name is often associated in Russia with several national priority projects in different areas, such as health, education, agriculture and affordable housing. During his online conference he spent a lot of time explaining the government's plans. Discussing housing projects, First Deputy Prime Minister supported the idea of building so called patrimonies or family estates in Russia. He added the idea goes well with the concept of constructing one-storied housing in the country. According to Mr Medvedev, it could be an effective solution to the problem of overpopulation in big cities.
"There is no need to concentrate only on huge parts of land, even in the big cities. It is more useful for health to locate across the whole territory of our big state. The most important thing is to make this building attractive,"
First Deputy Prime Minister stated.Fighting software piracy is not really a national project but it appears that it is equally important to both internet users, scared by the recent lawsuits from major software companies, and for government officials, since such a campaign is necessary for Russia's admission to the WTO.
"We're openly struggling with this. Taking into account Russia's joining WTO we are responsible for getting rid of piracy products. On the other hand, there are producers, soft-monopolists who gain a lot from software products and are subjected to anti-monopolist investigations in their countries. All this leads to problems with improving software systems. There's a special system of coding for licensing programmes but it is inaccessible to ordinary users. It would be better to use open codes for some software products,"
Mr Medvedev stressed.Dmitry Medvedev received over 8,000 questions, and it was impossible to answer all of them at once. But although he was on a tight schedule, he found some time to comment even on the silly and funny questions regarding internet slang, pranks, and the life of the blogging community. In Medvedev's opinion, the internet gives a great opportunity for people abroad to study the Russian language.
"There was this foreign Livejournal user, who could not tell Russian language from Albanian, and tried to make fun of the language. So he woke up one morning with a flashmob of comments from Russian users. I think by now he's learned Russian and maybe even Albanian. As for the internet in general, it creates a totally new subculture, with its own language,"
First Deputy Prime Minister believes.
You can share this story on social media: