Dmitriy Ganin: patriot hero or accidental victim?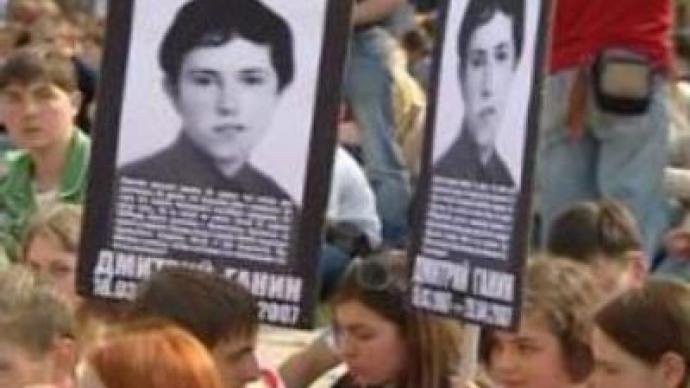 Activists from the Nashi youth movement have held a demonstration to mark the death 40 days ago of a Russian youth in Estonia. Twenty-year-old Dmitriy Ganin died on April 26 in Tallinn during protests against the Estonian government.
Dmitriy is the only victim of the violent clashes between the city police and those protesting against relocation of the Bronze Soldier war monument in the Estonian capital. He died in a hospital from his stab wounds. But many activists believe Estonian authorities played a part. And they are taking personal and political offence in his deathForty days since Dmitriy Ganin's death several hundred Nashi youth movement activists took the square in front of the European Commission office in Moscow. For Nashi activist, Dmitriy Ganin is a hero, a victim of the Estonian government.
"He protected the interests of our country, of our people. He remembered what our grandparents have done liberating Europe from the fascists, and he died because of it,"
claims one of the activists.But Estonia has a very different account of what happened on April 26. According to Estonian police, Ganin's death was not a result of their activity. In the ongoing investigation, two people have been detained in connection to Ganin's death and will remain in custody for six months if not charged earlier.More than 100 people were wounded during the riots, as young people took to the streets of Tallinn in protest against the Bronze Soldier monument's relocation. The city police retaliated with disproportionate brutality to destruction and looting from during the riots. In Estonia, Ganin is believed to have been caught-up in the wrong place at the wrong time.But Nashi attributed fighting a war to the young Ganin, a war against what they call is modern-day fascism in Estonia. And in their pursuit they would not hesitate to shatter a fragile truce between Estonia and Russia.
You can share this story on social media: