Dispute rages over Ukranian gas contracts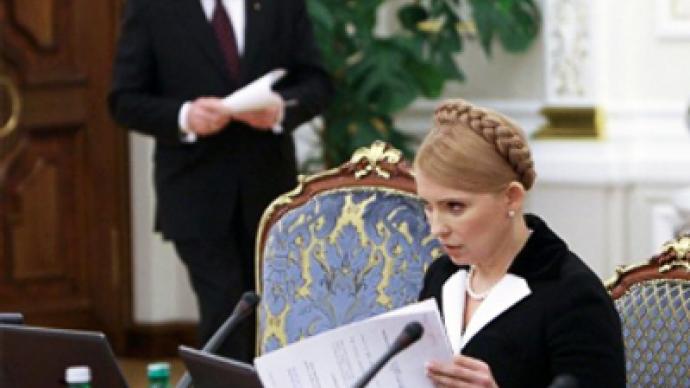 On Wednesday Ukrainian Prime Minister Yulia Timoshenko officially sent a request to EU experts to analyse the controversial gas contracts between Naftogaz and Gazprom signed on January 19.
During a press conference, Timoshenko promised to defend the legality of the agreement from its critics. She told reporters that she had no doubt of the quality of the documents signed, but as they are being publicly criticised in Ukraine, "it is necessary to provide another chance to check these documents".
However the President's Secretariat has cast doubt on the honesty of Prime Minister Yulia Timoshenko, saying "it would be more logical to carry out legal reviews before signing contracts, not a month after they have been signed".
An investigation by the parliamentary commission has so far called the agreement a betrayal of Ukraine's national interests. Further, the commission has said the Ukrainian government provoked the recent crisis, which resulted in a two-week cut-off of gas supplies to European countries.
Scandalous National Security and Defence Council session
On Tuesday, President Yushchenko and Timoshenko clashed in a PR wrestling match over the gas transit contracts with Russia.
Ukraine's Security Council continues discussing the situation caused by the gas conflict, as well as examining the contracts signed in Moscow. The new 10-year contract ends the gas row between Russia and Ukraine after long and very problematic disagreements.
President Yushchenko remains highly critical of the new contract, saying it was not advantageous for Ukraine, adding that Yulia Timoshenko acted beyond her authority when she negotiated the new contract for the shipment of Russian gas to Europe.
However, Timoshenko didn't wait long to strike back at the President and his Secretariat. She accused the council of hiding corruption schemes in the gas industry, and said she will continue to take part in its sessions, as her office entitles her to.
Yushchenko has also been accused of corruption in the gas industry by the media. At Tuesday's briefing, the president finally responded with tough words: "I never dealt with your stinking gas in my life, so that neither I nor my family could not have any personal interest in this industry! I have the honour to say this over again."
Finally, Timoshenko decided to bring medical experts into the conflict. An official inquiry was addressed to Ukraine's Health Minister from Timoshenko's government, saying "Considering the obvious inadequacy of statements, comments and the conclusions made by some workers of the President's Secretariat concerning the government's "betrayal of Ukrainian national interests,« [the governmental officials have asked the Minister of Health] to check the psychiatric health of these workers».
You can share this story on social media: