Gulf spill lingers in hearts and minds of locals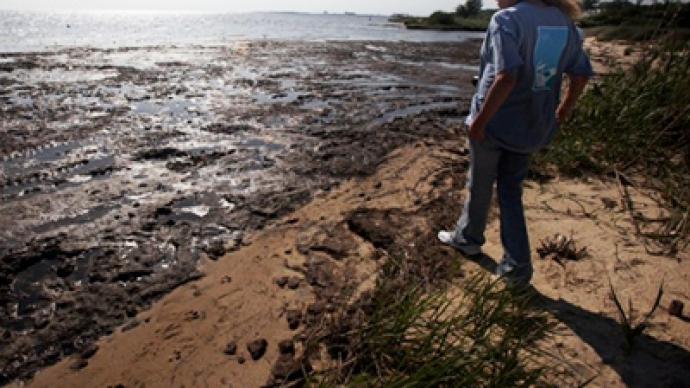 A year has passed since the Gulf of Mexico oil disaster, which killed 11 people and dumped millions of gallons of crude into the ocean. The cameras crews have gone, but locals continue to face the health costs of the tragedy.
Five million barrels of oil combined with almost two million gallons of highly-toxic chemical dispersants used to fight the oil spill. This cocktail contaminated not just the water in the Gulf, but found its way into people's blood. A year after the disaster, an environmental group tested the blood of dozens of cleanup workers, as well as residents of coastal areas. What they found was shocking: levels of benzene 36 times higher than normal. Clayton Matherne used to work as a boat engineer in Raceland, Louisiana. He says he was in perfect health before he was exposed to the toxic chemicals in the Gulf. Now he is fighting a plethora of illnesses."I have trouble breathing, I cough, I spit out blood. I shake and tremble; I can't even open a bottle of water. And the chemical poisoning causes severe headaches. I'm tired of suffering, I'm tired of watching my family suffer," said Clayton.And Clayton is not alone in his fight. George Price owns a small boatyard in Louisiana. Perfectly healthy just a year ago, he has lost 30 pounds in the last few months. He was diagnosed with severe anemia."My son and I myself, both of us started with being nauseated and throwing up, he lost a lot of weight too," George says.Doctor Michael Robichaux, who has been practicing medicine in Louisiana for 40 years, says he has never had such an influx of patients with respiratory and blood issues. And he fears the worst."Benzene is extremely notorious for causing leukemia," warned Robichaux.He is one of a few doctors who is outspoken about the connection of the Gulf Coast residents' symptoms with the toxic chemicals that they have been exposed to. Many other doctors refuse to recognize the cause, as Dr. Robichaux says, either because they do not have the necessary training, or they do not want to be caught up in court proceedings.An environmental justice group polled residents in several coastal communities, and almost half said they had experienced health problems like coughing, skin and eye irritation, or headaches that are consistent with common symptoms of chemical exposure.Doctors say the consequences of having, for example, benzene in the blood could be a lot more serious than that. It can cause a decrease in red blood cells, leading to anemia, or cancer of the blood-forming organs. "It's very clear when you look at the ingredients, which are considered a hazardous material coupled with the ingredients in toxic depressants. And when you mix those together it actually creates a substance four times more toxic. And these are exactly the types of chemicals that are turning up literally in peoples' blood", said Dahr Jamail, an investigative journalist from Houston, Texas.Many of the affected Gulf Coast residents and those involved in the clean-up of the Gulf say they are alone in their fight with the consequences of last year disaster. And many of them, like Clayton, do not have health coverage. Marine biologists are saying it is going to take at least 20 years for the Gulf's ecosystem to recover. President Obama has assigned the country's environmental agency to investigate health effects of the spill, but many Gulf Coast residents are sure the agency will do its best to sweep the findings under the rug.
Miyoko Sakashita from the US Center for Biological Diversity says the US government has a very short memory for what is happening in the area. One year on after the BP oil disaster, the government is already encouraging the offshore drilling and is making plans to lease new areas to offshore."The US government promised regulatory reform in this industry that really has gone wild, and at the same time we are seeing a year later permits going forward with still none of the adequate compliance with environmental laws," she says."They really need to change the culture of the US government and start doing a proper analysis and looking at alternatives to off-shore oil drilling, it's quite risky," Miyoko Sakashita added.
Professor Richard Steiner, a former marine conservation specialist, told RT that experts knew that the catastrophe would happen sooner or later, as the government was not providing adequate oversight of these deep- water exploratory projects. "The issue of safer drilling is a big one but the US has taken some modest steps in making deep-water drilling safer", says Professor Steiner. "I am not very confident that the Federal Government of the US – or many other countries – is providing adequate technological oversight of the risks, and this is of relevance to Russia as well", he added."The damage was extensive and it will be with us for years and probably decades. The economic damage has been enormous, billions of dollars have been paid already to try to settle claims. The social and psychological impact on coastal residents and the environmental effect were also enormous", he concluded.
You can share this story on social media: