Diplomats clash over Iraq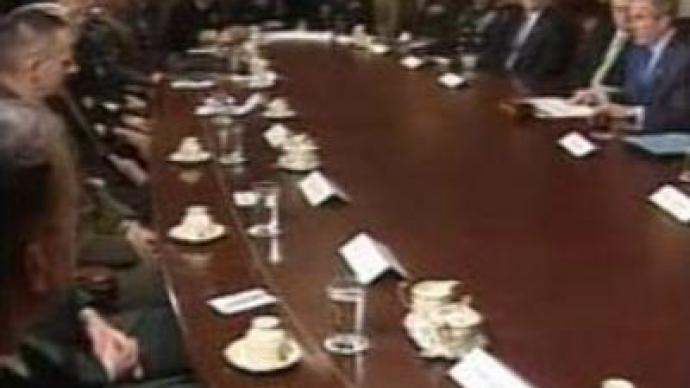 As suicide bombs become an ever more common occurrence in post Saddam Iraq, a festering diplomatic stalemate has re-surfaced. The country has become an arena for the struggle between the U.S. and Iran for regional influence.
Despite U.S. accusations that Iran is helping to fund the insurgency, Iran's Foreign Minister Manouchehr Mottaki says the country is part of the solution in Iraq.
"The Islamic Republic of Iran is playing a part in resolving Iraq's problems, not a part of the problem itself. Our policy in the past four years has been to support the procedure of political development and to help the formation of the Iraqi government in Iraq. Iran has been a pioneer in following this policy,"
Iranian foreign minister claimed.His comments came after an Iranian Paris-based opposition group claimed on Friday that Iran has thousands of paid operatives working in Iraq, releasing the names of nearly 32-thousand people it alleged were involved. Tehran refutes these allegations.U.S. President George Bush has warned the Iranian regime will be stopped if it attacked U.S. or Iraqi forces inside Iraq. His cautionary speech came whilst he rebuffed congressional criticism of plans to send more than 20,000 extra troops to the country in addition to the 134,000 already deployed there.Sergei Lavrov, the Russian Foreign minister, at least is questioning the "increasing military presence in the Mideast". He will raise the issue in a meeting with Condolezza Rice next week.His comments come in response to Washington's plans to deploy a second aircraft carrier group to the Gulf as well as Patriot missile defence systems. These steps are widely seen as a warning to Iran and Syria.Bush denied this as "simply untrue," saying he still believed a diplomatic solution was possible with Iran.As the U.S. President awaits the outcome of congressional plans to halt the latest troop deployment, many in the region will be hoping a peaceful resolution to the Iranian situation won't be far behind.
You can share this story on social media: