Did Russian ship sink Norwegian fishing boat?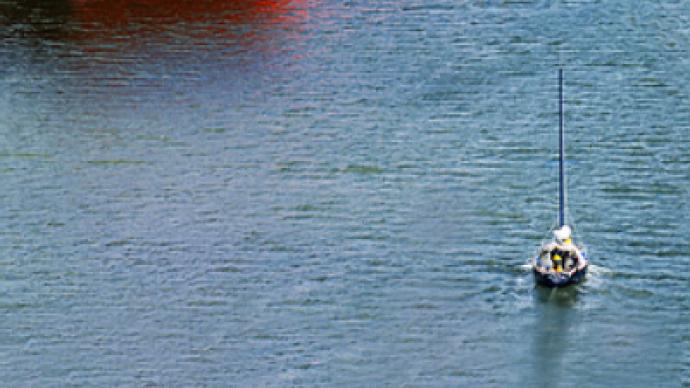 Norwegian police suspect a Russian ship of colliding into a Norwegian fishing boat. The incident resulted in the disappearance of a Norwegian citizen.
The boat 'Marina' with the 68-year-old Norwegian fisherman aboard disappeared on Monday off the coast of northern Norway.
The sunken wreck was later found at a depth of 80 metres, but the fisherman is still missing.
Norwegian police have radar data that shows that the route of the Russian bulk-carrier, 'Mekhanik Tulenev' was very close to the point where the wreck was found.
The Russian ship was detained on Tuesday in the Norwegian port of Bude for inspection of hull damage and so that the ship's crew could be questioned.
The head of the investigation committee told journalists no evidence of blame had been found, so the ship and its crew will be released, although the Russian ship's captain will have to wait till Sunday, March 8, when the sunken Norwegian vessel will be brought to the surface.
Norwegian authorities are awaiting confirmation from the Russian Northern Shipping Company that it is ready to pay any penalties if the captain's guilt is proven.
Detained Russian trawlers
The 'Mekhanik Tulenev' bulk-carrier is not the only Russian ship currently detained in Norway. On Wednesday, March 4, the Russian trawler 'Pavel Batov' was detained and escorted to the Norwegian port of Vardø for "illegal fishing in the Norwegian economic zone."
The trawler will remain under arrest until the Norwegian coastal guard decides on the fine and possible confiscation of fish.
On January 16, 2009, Norwegian coastal guards detained another Russian fishing trawler, 'Pyotr Petrov'.
In 2008, several Russian trawlers registered at the port of Murmansk were held by Norway. Two of them were detained in March, another two in July and another one in November 2008.
Russia and Norway have been involved in a decades-long dispute over maritime boundaries in the Barents Sea.
Russia-Norway maritime boundaries stand-off
The long-standing dispute between Russia and Norway regarding their maritime boundaries in the Barents Sea has not yet been resolved. In 1920, Norway's sovereignty over a group of islands called Svalbard was established through the Svalbard Treaty and five years later it officially took over the territory.

Once this sovereignty had been established, Norway also claimed a territory of 200 nautical miles as exclusively theirs for fishing.

Though accepted by the 40 other nations that were signatories to the Svalbard Treaty, this claim was never recognised by Russia, who claims to have fishing rights beyond Svalbard's territorial limits within the Svalbard Treaty zone. Norway, in turn, refutes Russia's claim.
An underlying reason is also the expectation of substantial petroleum reserves being found in the disputed region. Limited geological exploration of the area has been conducted, and it appears that there are vast supplies of both gas and oil.
You can share this story on social media: