'Tehran could destroy Israel in 24 hours' - Khamenei's Revolutionary Guards spokesman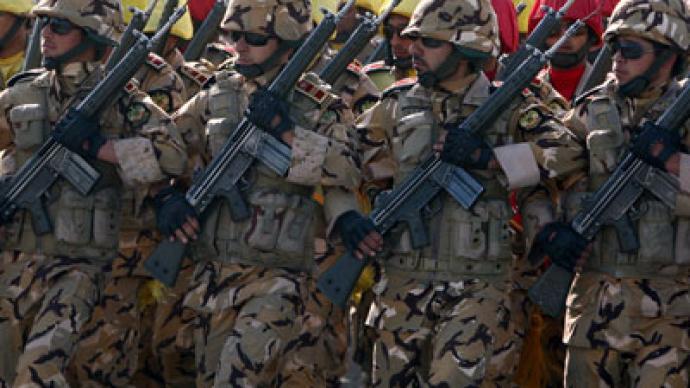 Iran is ready both for a blitzkrieg and a war of attrition with Israel, Ayatollah Ali Khamenei's representative in the elite unit of the Revolutionary Guards says, adding Tehran would need just 24 hours to annihilate Israel in a retaliation assault.
Hojjat al-Eslam Ali Shirazi, Ayatollah Ali Khamenei's "commissar" in Qods, Iran's special unit for extraterritorial operations that reports directly to Khamenei, was appointed to his position one year ago. The official made no formal statements in that time, but finally granted an interview to Iranian Jahan News.Ali Shirazi has made a number of harsh statements towards Israel, which openly discusses the possibility of war with Tehran over its nuclear program. He also attempts to dispel rumors about Iran's Islamic Revolutionary Guards Corps (IRGC) most secret unit.According to Ali Shirazi should Israel dare to attack Iran, it would take 24 hours for Tehran to destroy the Jewish state."If a war with Israel does happen, it wouldn't be a long one, and it would benefit the entire Muslim world," Ali Shirazi claimed.The Qods Force operative also pointed out that Iran knows how to conduct attrition warfare, presumably referring to the eight-year Iran-Iraq war (1980-1988), so a long-term conflict would also be disastrous for Tel Aviv, which does not, he said.According to Ali Shirazi, due to the ongoing processes in the Arab world the current position of Israel is desperate, which causes Tel Aviv to speak recklessly.Ali Shirazi also scuttled rumors about the death of Major-General Qasem Soleimani, the head of Qods, who allegedly died in a bombing in Damascus on July 18, in which a number of high-profile Syrian military and President Bashar Assad's top aides were killed."There has been too much media speculation on Suleimani being involved in the Syrian conflict and that he was killed in the bombing in Damascus," Shirazi said. "But in fact Suleimani wasn't in Syria [when the explosion took place], he was in Iran on that day."The Qods Force, responsible for IRGC operations outside Iran, is a unit of unknown size that acts according to direct orders from Ayatollah Ali Khamenei, bypassing the head of IRGC, Major General Mohammad-Ali Aziz Jafari.Israel has for years been discussing possible strikes on Iran's nuclear facilities to prevent Tehran from obtaining nuclear weapons. The latter has always been insisting its nuclear program is peaceful and regarded Israeli threats a bluff, promising that counterforce retaliation would be overwhelming and would include military infrastructure of not only Israel, but its possible allies in the region as well.The bellicose rhetoric between the two countries has only increased in recent months.Israeli PM Benjamin Netanyahu made waves before the UN General Assembly last week by literally drawing a red line through a cartoon bomb to show at what point the international community should intervene to halt Iran's uranium enrichment program.The previous week, a senior Iranian Revolutionary Guard Commander warned any attack on Iranian soil could trigger"World War III."Brigadier General Amir Ali Hajizadeh also said Iran "could launch a pre-emptive attack if it was sure that the enemies are putting the final touches to attack us."Iran further warned that US military bases in the region would be fair game for a retaliatory attack if Israel went through with a preemptive strike.Iran's latest claim to have the capacity to destroy the Jewish state in 24 hours flies in the face of statements made by Matan Vilnai, Israel's ambassador to China, in August.After speaking with Israeli Defense Minister Ehud Barak, Vilnai said a hypothetical war with Iran would see Iran last just one month and entail around 500 Israeli causalities.Earlier that month, an anonymous American military source said a secret plan had tasked the US military with attacking Iran's ballistic missile batteries to neutralize the existential threat to Israel, freeing up Israeli troops to tackle Syria and Hezbollah.Despite information stemming from unverified reports, Washington has publicly taken a much softer line on Iran. Last week, US President Barrack Obama said he would block out "any noise" from Israel Prime Minister Benjamin Netanyahu concerning premature military intervention in Iran.
You can share this story on social media: