French movie star Depardieu to renounce citizenship, accused of tax evasion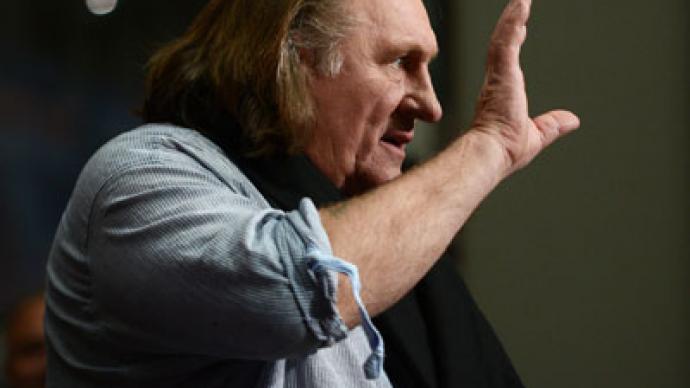 French actor Gerard Depardieu says he is going to renounce his French citizenship over "insulting" criticism and accusations of tax evasion he faced after announcing his plans to move to Belgium.
"I don't ask to be approved, but I could at least be respected!" Depardieu wrote in an open letter to Prime Minister Jean-Marc Ayrault, adding: "All those who have left France have not been insulted as I have been."
His sentiments were mirrored by  who said the actor's decision was a "real shame".
His words referred to Ayrault`s comment in which the Prime Minster Jean Marc Ayrault called Depardieu`s decision to leave France "pathetic", accusing the actor of trying to avoid taxes. Earlier it was reported that Depardieu had acquired property in the Belgium village of Nechin.
"I find it quite pathetic, everyone loves him as an artist but paying your taxes is an act of solidarity and patriotism." Mr Ayrault said.
The French culture Minister Aurelie Filippetti has also said he disappointed by Depardieu decision to renounce his French citizenship.
He also remarked that many of those who have decided to leave France like Depardieu have done so not because they are worried about becoming poor but so they can get even richer.
Depardieu, who is known for his passionate temperament, was outraged by the minister`s reaction. "Who are you to judge me in this way?" he asked, stressing that he had always paid his taxes.
"I'll give you back my passport and my social security that I have never used. We no longer have the same country," the actor concluded in an angry letter published in the weekly newspaper le Journal du Dimanche.
On Thursday it was also announced that Depardieu is set to sell his historic Paris mansion. Reports say the property is listed at $65 million.
Depardieu`s decision to seek Belgium residency has been seen by many as an attempt to evade fresh taxes introduced by President Francois Hollande.
The new measures include a wealth tax, starting at a rate of 0.25%, targeting French citizens with assets over 1.3 million euros, and a 75% tax on income exceeding one million euros.
Belgium does not imposes any additional taxes on its rich citizens, making it a lucrative destination for French millionaires to settle.

The latest in the list of tax exiles is French mogul Bernard Arnault – the country`s richest man , who applied for Belgian citizenship three months ago. Although Arnaul denied that his move was connected to the freshly imposed taxes, his decision inspired a wave of criticism in the French press.
The mayor of the small Belgian village, Neshen, where Depardieu has moved has confirmed that the actor has asked for Belgian citizenship.