Denver claims first ever playoff victory over Lakers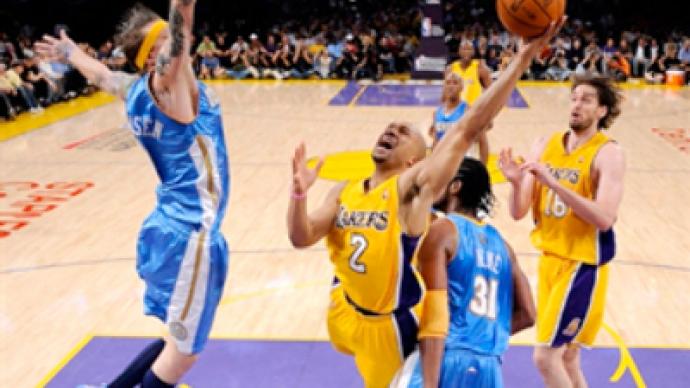 In the NBA, the Denver Nuggets have leveled the best-of-seven series against the Los Angeles Lakers at one apiece.
The Nuggets beat the Lakers on the road in game two of the Western Conference finals, 106-103.
The game was decided in the last seconds. Kenyon Martin hit a layup in traffic with 29 seconds left, and Chauncey Billups made 3 of 4 free throws to give the Nuggets the win.
It was Denver's first-ever playoff victory against Los Angeles, which owned an 11-0 record dating to 1985, the second-longest postseason winning streak against one team in NBA history.

Carmelo Anthony had 34 points and 14 rebounds Thursday night, Billups had 27 points and 16 rebounds, and Linas Kleiza added 16 points for the Nuggets.
Kobe Bryant had 32 points, Trevor Ariza scored a career playoff-high 20, and Pau Gasol 17 points and 17 rebounds for the Lakers.

The Game Three will be held in Denver on Saturday.
You can share this story on social media: