Demographics: a policy priority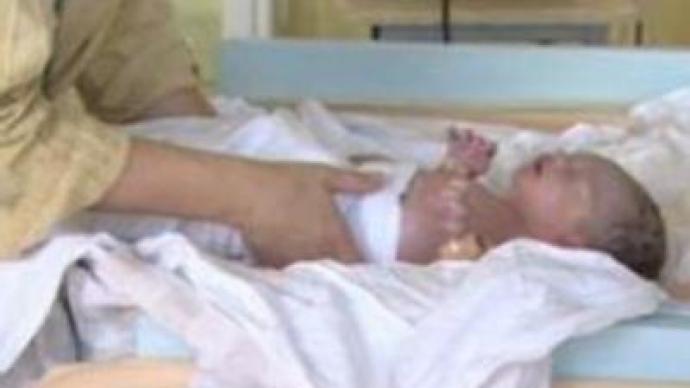 President Vladimir Putin is pushing ahead with several national priority projects and changes to demographic policy. He is meeting the council responsible for implementing the projects to discuss steps for the next three years.
Russia is facing a population time-bomb. The birth rate is low, while mortality is on the rise. Almost a third of the nation is now living below the poverty line. The size of the problem prompted President Putin to announce several national priority projects last year. They include social initiatives in education, housing, agriculture and health care. The education project is set to increase teachers' salaries, supply schools with modern equipment and internet access and issue grants to the best students, teachers and scientists. In the housing sector, the project will boost the number of apartment blocks, improve mortgage and housing legislation and provide subsidies helping the needy to buy flats. The agriculture initiatives target finance for farmers, to allow them to buy new equipment and also provide more accommodation for young people in rural areas. An improvement in the quality and availability of medical services is the aim of the health care project. Hospitals will be re-equipped and salaries will be raised. The president says existing problems in these sectors have a direct impact on birth and mortality rates in Russia. Addressing the Federal Assembly in May, Putin called the demographic crisis a major threat to the nation's future.
"On average, the population of Russia is reducing by 700,000 people annually. We've raised this task a lot of times but we haven't done anything significant," he said.
Demographic policy is now one of Russia's key priority areas. It includes measures supporting young mothers, improving migration policy and tackling the high death rates. Seven-and-a-half billion dollars will be allocated for the national priority projects from the federal budget next year. First Deputy Prime Minister Dmitry Medvedev personally oversees these initiatives. The aim is that Russians will feel the first results within two to three years.Vladimir Arkhangelski from the Centre for Demographics at Moscow State University thinks paid maternity leave can boost the birth rate in Russia.
"These measures directed to stabilisation of the demographic situation in Russia are first of all a start point for the complex of demographic policy, aimed to increase the birth rate and to decrease the level of mortality and also to stabilise migration," he said. "The most significant measure is to lengthen a mother's vacation to take care of her baby up to 1.5 years."
Oksana Sashlieva, head of the Garnaev Charity Foundation and mother of four children, noted the problems faced by families with many children.
"It's very difficult to bring up children these days in Russia. There are many families with many children, facing a lot of problems with housing and money," she said. "The government needs to think how to support families with many children who have financial problems. The little boys from these families will grow up and defend the country, the little girls will marry and become mothers. The government needs to defend them now by giving adequate benefits to their parents."
You can share this story on social media: