Decision deadlock for North Korea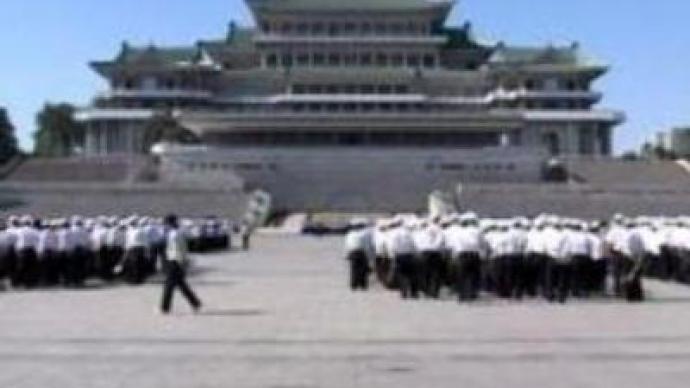 Japan and the US remain at odds with China and Russia over what type of sanctions to impose against North Korea, after the country has reported nuclear test. North Korea says Pyongyang will regard further pressure from America as "a declaration of a
and threatened Japan with "strong countermeasures" if it goes ahead with tougher sanctions – according to Japan's Kyodo news agency. The U.S. has circulated a revised draft resolution mandating economic and trade sanctions against North Korea over its reported nuclear test. The text calls on Pyongyang to "return immediately to six-party talks without precondition," determining the country's actions as a threat to international peace and security. The draft will be discussed by the UN Security Council.

John Bolton, US Ambassador to United Nations, reports for Russia Today:
"There are a number of disagreements. We think that the fact that North Korea has conducted a nuclear test does amount to a clear threat to international peace and security, and warrants action under Chapter 7 of the UN Charter, as well as a variety of strong measures."
It's thought North Korea's closest ally China is resisting the current US-drafted resolution, fearing it could open the way to military action. For the moment, Bush is stressing diplomacy. He says there are no plans to attack North Korea, but hasn't ruled out a military response in the future.
George W. Bush, US President comments:
"The United States remains committed to diplomacy. The United States also reserves all options to defend our friends and our interests in the region against the threats from North Korea."
The UN Secretary General is urging the Security Council to iron out its differences, and send an unambiguous message to Pyongyang .
Kofi Annan, UN Secretary-General, says:
"I think what is important is at this stage, the council, as I've said, speaks with one voice. It will have a greater impact on the North Koreans if they do."
Japan – which lies well within the range of a North Korean missile attack – has already announced punitive measures against North Korea. It's banned all imports and barred North Korean ships from Japanese waters. Pyongyang has responded by threatening to conduct further nuclear weapons tests. It says it's future actions depend on Washington's policies. North Korea says it's prepared to resume Six-way talks over its nuclear program – under the right circumstances. It also insists, it's prepare for more confrontation.
While Seoul and Beijing – major aid providers to the North – face growing calls for tougher measures against Pyongyang, North Korea continues to insist its policy will remain unchanged.
The country's Foreign Ministry official says Pyongyang will consider further US pressure as "a declaration of war."
"As a nation that possesses nuclear weapons, we are ready for both dialogue and confrontation. If the U.S. increases pressure upon us, persistently trying to do us harm, we will continue to the next step of physical countermeasures, considering it as a declaration of war. But we still remain unchanged in our will to denuclearize the peninsula through dialogue and negotiations".
Anatoly Tsyganok, from the Institute for Political and Military Analysis says North Korea's nuclear capability could be a real threat for neighboring countries:
"North Korea is quite a separate country. Experts consider North Korea to have at the present days approximately 10-12 nuclear charges. If we take into account the fact that one nuclear charge was used last Friday for tests, North Korea possesses 10-11 charges more. We must understand that the direction of winds in Korean Peninsula is directed to Japan. If North Korea conducts another nuclear detonation, this radioactivity will reach Japan."
You can share this story on social media: