Pakistani police kill 5 militants in gunfight following airport assault
Published time: 16 Dec, 2012 09:28
Edited time: 16 Dec, 2012 15:57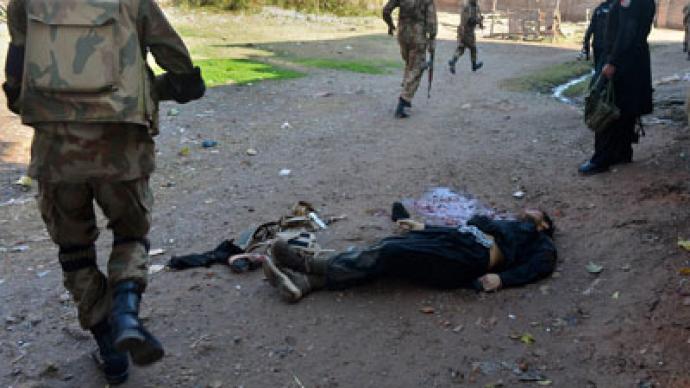 Police gunned down 5 militants holed up in a house in the northern Pakistani city of Pashawar after they attacked the city's airport. An officer was also killed in the ensuing firefight when police cornered the suspected Taliban insurgents.
The five militants sought refuge in the village of Pawaka, around 3 kilometers from the airport. Three of the armed insurgents were shot dead by police as they tried to escape the building where they were holed up, said Pakistani Information Minister Mian Iftikhar Hussain. The two remaining men, however, detonated their suicide vests when officers stormed the building.

Pakistani military officials said that all of the gunmen were Uzbek militants, with whom the Taliban have been known to work in the past.The gunfight broke out just hours after the militants carried out an attack on Peshawar airport. The suspected Taliban insurgents fled the airbase after five of them were killed when the military moved in to secure the area.

The authorities were aware that some of the militants had escaped and subsequently traced their movements to the nearby village of Pawaka.
They bombarded the airfield's outer walls with explosives and rockets-propelled grenades, but they did not manage to break into the facility and no damage was done to any air force equipment. Four civilians also perished in the biggest assault on a military facility in Pakistan for months.
Separately, while militants attacked the airport, three rockets were launched into a residential area of Peshawar city. No terrorist group has claimed responsibility for the attack, but Taliban militants are known to operate in the area.

The city of Peshawar is the capital of the northeasterly Khyber Pakhtunkhwa tribal province, located on the tumultuous border with Afghanistan. The area is a hotbed for al-Qaeda, Taliban and Haqqani terrorist groups and sees regular insurgent attacks.

The US carries out drone attacks in the area which it claims are an effective measure in the fight against terrorism. However, the controversial attacks have been a source of contention between the US and Pakistan as many civilians have been caught in the crossfire.
Pakistani security forces inspect the dead body of Taliban militant after a gun battle with militants in Peshawar on December 16, 2012.(AFP Photo / A Majeed)