Time stops: Russia abolishes daylight saving time practice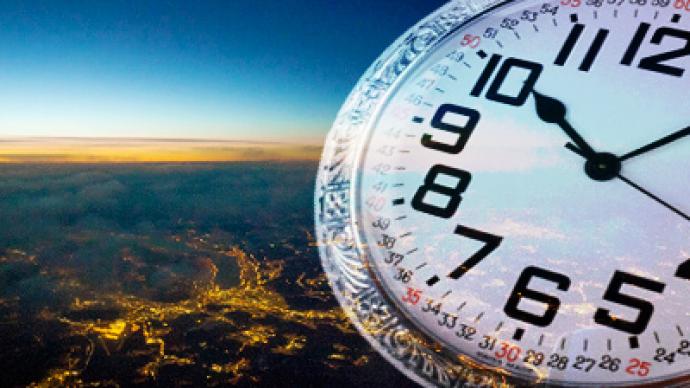 President Medvedev has announced that Russia will not come off daylight saving time starting autumn 2011. Medvedev argued that switching clocks twice a year is harmful for people's health and triggers stress.
The move means that Moscow and St. Petersburg will stay at GMT+4 hours year-round, instead of reverting to GMT+3 for the winter period. Mid-winter sunrise in Moscow will therefore occur at around 10am, with an even later daybreak for the northern capital.
"Every fall and every spring we are swearing at this system," Medvedev said. "Our biorhythms are damaged. We are all angry. We either oversleep and turn up late for work or wake up too early and don't know what to do with this free time. Let alone poor cows and other animals that can't understand why they should have their meals or be milked earlier or later." The daylight saving system has long been subject to discussion. Medvedev first suggested considering its abolition back in November 2009, which was followed by massive studies of the subject. The report published by Russian Academy of Medical Sciences revealed that when the clocks are changed, the number of heart attacks increases by 1.5 times, the rate of suicides grows by 66 per cent, and many more people call the ambulance service.The Academy said that the effect was the biggest on children and elderly people, who experienced stress, sleep disorders, cardiovascular, immune and metabolism problems. "Daylight saving time not only deteriorates national health, but also results in economic losses, such as sick leave and additional drug expenditures," Dr. Tatiana Yakovleva, first deputy head of the United Russia party, was quoted as saying by the ITAR-TASS news agency. Further research into economic reasons behind daylight saving time also showed that the system has long outlived itself. "There is an opinion that the artificially prolonged day helps save energy," Public Chamber member Elena Nikolayeva said. "However, according to an official report by specialists at the Kola nuclear power plant, daylight saving time in Russia saves 4.4 billion kilowatt/hours of electricity or about 31 kilowatt/hours per capita. The thesis that the economic benefit is global for Russia's economic life is disputable. The impact on human health and social life is much more serious." The daylight saving time idea was put forward back in 1895 by New Zealand entomologist George Vernon Hudson. Nowadays, 110 out of 192 countries adjust their clocks twice a year. Iceland is the only exception in Europe. Russia started to use daylight saving time in 1981.
You can share this story on social media: