Dodging snipers in Darayya: RT goes to Syrian urban battleground (VIDEO)
US bombing of Syria may have been put on hold, but the civil war there continues. RT examines what warfare looks like for the foot soldiers of the Syrian army, fighting building-to-building with the rebels for Damascus suburbs.
Darayya used to be a picturesque town with up to 300,000 people south of the Syrian capital, but now all the residents have left, and the only people there are either army soldiers or rebel fighters contesting the ruins, reports RT's Maria Finoshina.
The town is part of a strong militant belt around Damascus empowered by stable inflow of weapons smuggled in from Jordan known as Eastern Ghouta. A place of fierce fighting, it was where a chemical attack in August brought international resonance in its wake.
Finoshina went with an army patrol to the urban battlefield. In some places the army can use its hardware advantage, using armored vehicles to protect soldiers from enemy small arms. In others they can only go on foot.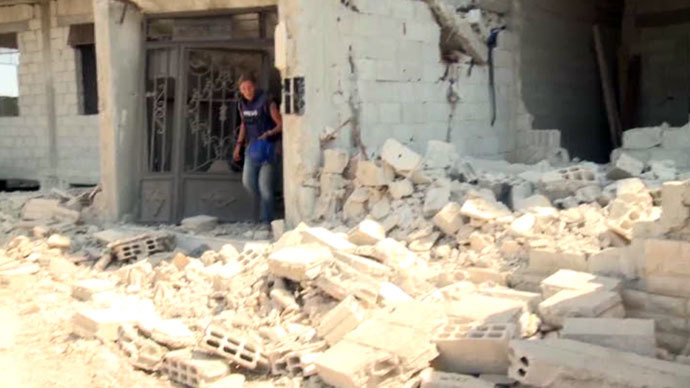 Snipers are the biggest threat in the rebel-controlled areas, where places to hide are plentiful and underground tunnels and holes in the walls are used for covert movement. Measures as simple as curtains hiding soldiers from sniper sight are occasionally enough to protect them. But often they rely on speed and luck to cross dangerous spots.
Despite the dangers and the two-and-a-half years that the conflict has raged, morale seems high in the army, Finoshina reports.
"I'm honored to defend my country, defend the Syrian people," Abdel Ghafour Salloum, one of the soldiers, said. "Even if USA attack us with it aircrafts and tanks and everything, we will make our land their cemetery."
Government forces deploy their snipers as well. The entire town is unsafe, with no clear frontline and tides of battle ebbing and flowing every day.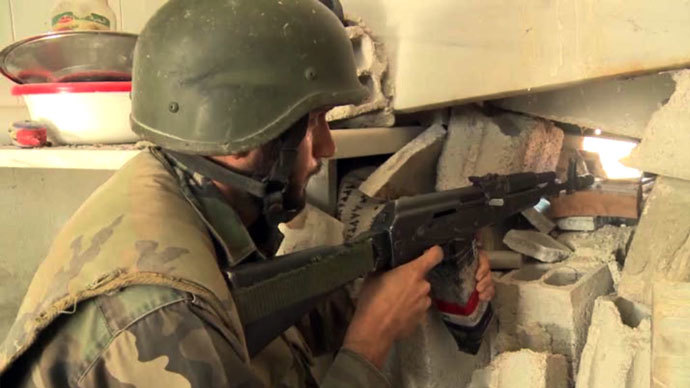 You can share this story on social media: