Friday. Damascus. Anticipation of a riot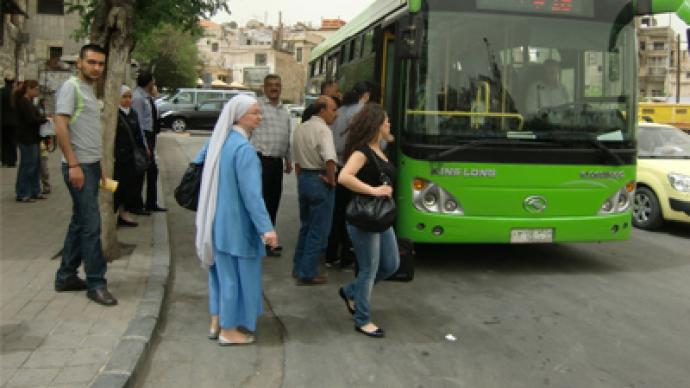 The Western media says that protests have been sweeping across Syria with more than a thousand killed since mid-March. But RT's Nadezhda Kevorkova has spent two weeks in Damascus, saying it looks nothing like a national capital torn by a revolution.
In order to reach the main and oldest mosque of Damascus, you have to walk through the market. It is deserted. The entrance is being guarded by a policeman who has leaned against the iron bars. Never before have I seen a policeman here! It is Friday morning. All the shops are closed. Everything is closed. There are very few cars in the streets, and hardly any passersby. Groups of five to six unarmed soldiers are pacing up and down in front of the state buildings. Near the fence of a ministry you can sometimes spot three or five men dressed as civilians and clutching automatic weapons in their hands. A couple of military men are having a snack in the car. On all other days, and I have been in Syria for almost two weeks already, no soldiers or armed men could be seen in the capital whatsoever.I am the only foreign journalist here and have no accreditation. That fact makes me avoid the policemen, taking a longer road through a neighboring district, and I rush into the narrow streets. I ask a lonely taxi driver if it is allowed to enter the mosque. "Of course it is!" is the answer, and he directs me to the right turn.I certainly don't look like a local resident or a Muslim, but it no longer impresses anyone here. The Omayad Mosque has seen both Christians and Muslims for the last 1,000 years. The head of John the Baptist rests in peace in the middle of the mosque. The Saint is worshiped both by Muslims and Christians. It seems this sacred relic is here to discredit the idea of war between civilizations.
There are no more foreigners in Damascus. There used to be crowds of them in the Old Town. I met only three in an entire week, but for a bar full of Europeans I found in the basement of my hotel. Actually, if you wish to shoot a film illustrating anxiety in Syria, it's not that difficult, provided you have some skills in the field. After watching news reports on a couple of Western TV channels and having a stroll through deserted Damascus, I couldn't help feeling worried.A bunch of children come racing along the street, breaking the hollow silence with wild screams. I am in the narrow streets of the Old Town, and there is no movement but for an empty plastic Coca Cola bottle rolling on the pavement in a gust of wind. Here comes a man. He turns abruptly, disturbed by a noise from some strange construction, no trace of a smile on his face. And then someone approaches me and forbids me to take pictures. I keep taking photos at the entrance to the mosque with my amateur camera."Why can't I take pictures?"He thinks for a second."Do as you wish, please."I take photos of the deserted square that has never been so for the last 1,000 years. Sometimes my camera catches figures of men of odd appearance – it's the people in civilian clothes that look like that in any country the world over. One of them tried to prohibit me from taking pictures just now – the only woman on this square who managed to play the role of a tourist and who believes political news to be a kind of noise made to prevent people from enjoying their lives. It is easy to play a tourist – you only need to snap photos with delight and enthusiasm and peer into the city map with concentration. The people of Damascus think the map is sort of an innocent obsession of all foreigner tourists.I step toward the entrance of the mosque and miraculously (!) no one bars my way, sending me to buy an entrance ticket at some other place, what they always do with foreigners. They invite me to show my ID, and let me into the yard of the mosque. Later I realize the ticket office is closed, as there are no more volunteers to buy a ticket.There are a few women with children in the huge yard of the mosque, and hardly two dozens believers inside the mosque – in contrast to the usual Friday prayer, when there is not enough room to admit all the faithful.I sit down on the steps. A young woman inches closer to me. She is wearing a black hijab and starts whispering passionately:"What a courageous move it is to come to Syria and get to this mosque. Do you know how dangerous it is here? Do you know the tombs of 5,000 women and children have been found?… No, I am not informed where in particular, but they say they were shot by the government. Do you know 800 people have lost their lives, and that's for sure? Of course I haven't seen them being killed, but they tell me so. What is dangerous, you're asking me?! After the prayer, people may start a rally and get arrested. Did you see how many secret service officers are waiting in the square? They are lying low, of course, but will make themselves seen at any sign of a protest. There are very few people praying inside the mosque, that is true, because people are frightened. But there may be protests all the same. People are not afraid of going to the mosque, but fear they may be detained. What do people want? They want freedom, democratic elections. Nobody prevents us from praying, of course, but they simply refuse to listen to the people. They only say they are against Israel, and what did they really do?"I have to remind her that Syria is, in fact, doing the best it can compared to all other Arab countries. It is only here, in Syria, that nearly 500,000 Palestinian refugees live right next to the country's lawful citizens as their equals. And it was in Syria that about 1 million refugees from Lebanon found shelter after the 2006 Israeli bombings. And only Syria accommodated 1.5 millions of Iraqis fleeing from the US invasion…But my partner in conversation finds the lack of democracy a more compelling issue. As soon as men start leaving the mosque, she engages in talking to all women around, giving them advice to keep an eye on their children."They may start protesting, you see? And we all can get hurt, including the children," she said. But nothing happens. Her husband picks her up after the prayer and they both leave.Many stop by for a quick chat – some believe that the government is right, others think it is high time to start changing things. Some hope for an iron hand, while others are unhappy with the Western media's coverage of local events. Yet some are concerned with the newly introduced ID checks in all mosques."They started checking people IDs because of these protests," shared a young guy living near the Omayad Mosque. "They want to keep these activists out of the mosques to prevent them from spreading the protests. We now know their methods – they come as a small group to a Friday prayer, and after it is over they exit together with the crowd and start shouting protests, making it look like all the people around actually support them. It happened in this very mosque, too. And in some others. You never know where it may happen next time. Of course, people aren't as scared as before, but no one likes to be used, right? People may have different ideas, but these protests are by far very strange."A few hours later, after sunset, I returned to the mosque and couldn't believe my eyes – all the stores were open, and the streets were full of people. Indeed, Damascus looks nothing like the capital of a country hit by a revolution. At any rate, this would be a most peculiar kind of revolution.On the whole, the word "strange" is the one that I got to hear most often while I kept talking to people about what's going on.Five days later, the world's media broke the news of Damascus having been hit by public protests on May 22. I am here to testify that nothing of the kind happened there that Friday – although my visit to Syria gave me a good idea of how you can stage practically anything out of thin air.
Nadezhda Kevorkova, RT
You can share this story on social media: