Czech neo-Nazis forget their history lessons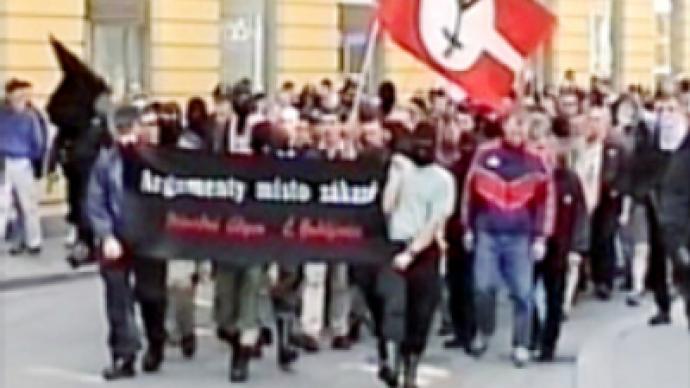 Neo-Nazism is on the rise in Europe. Far-right movements are strong in Western European countries like Spain and Greece. A serious increase in reported racist attacks is also being witnessed in many Eastern European countries, especially the Czech Republi
Chairman of the Tolerance organization, Ondrej Cakl, is monitoring the activities of Czech neo-Nazis and their sympathisers. Thanks partly to the footage he'd taken around 50 of the most active neo-Nazis in the country have been arrested.
"I started attending right-wing demonstrations in 1990 because I sympathised with the ideas. But then I figured out they were lies and manipulation. After every such rally, about 50 racist skinheads would beat someone up. That was when it struck me how scary it was. For the first time in my life I saw someone kick a person in the face with a boot. There was a lot of blood and the person couldn't see anything because of the blood pouring," he recalled.
Today the Czech right-wing extremists are trying to behave better than in the 90s. Their biggest ever rally, called Freedom Day, was to be held in the east Bohemian city of Hradec Kralove at the end on October. But when its location became public, the event was banned.
The event was organised by the extreme right Workers' Party or 'Delnicka strana'. It's been striving to get its members elected to parliament.
"Media – that's the problem! If it wasn't for the media there wouldn't have been such hysteria around us and our event wouldn't have been cancelled. And there wouldn't have been so many police! It's absolutely excessive," said Petr Kotab, Deputy Head, Workers' Party.
Its manifesto proposes abolishing all support for immigrants, registering the nationality of the country's inhabitants and confirming it on people's birth certificates and ID. It also demands the Czech Republic withdraws from NATO and the EU.
"The Czech Republic for the Czechs" is the motto of the country's nationalists.
Despite objections from the city council, the gathering marched through the city and held a brief public demonstration, while a large contingent of riot police stood by.
Around 200 took part in the rally, but the exact number of those with far-right nationalist views in the country is not known.
Until now, the Czech Republic's estimated 3,000 to 5,000 right-wing radicals have remained an insignificant fringe group without a strong centralised leadership or political backing. But Czech right-wingers have recently begun trying to become more visible, promote their political ideas and overcome their political isolation. Now they are supported by Germany's National Democratic Party.
"The main message is that we belong together. I tried to communicate that we, German nationalists, have solidarity with Czech nationalists and that we are happy to work together," said Per Lennart Aae from Germany's National Democratic Party.
You can share this story on social media: