Cyprus banks reopen: LIVE UPDATES
Banks in Cyprus have reopened to the public for first time since March 16. However, withdrawals are limited to 300 euros ($385) a day to prevent the "collapse of credit institutions."
The strict controls were imposed as Cyprus struggles to raise 5.8 billion euros to qualify for a 10-billion-euro bailout from the EU, European Central Bank and the IMF – the so-called 'Troika.' Deposits of over 100,000 euros will be taxed in exchange for bank shares. An earlier plan to tax smaller depositors was vetoed by the Cypriot parliament last week.
Among other limitations, clients are not able to cash checks or take more than 1,000 euros out of the country.
Cyprus stock exchange is to remain closed till next Tuesday.
18:00: GMT: Fitch downgrades Bank of Cyprus and Cyprus Popular Bank's mortgage covered bonds to 'B from B+
17:10: GMT:
PHOTO: A man with a parrot on his head is seen outside a Bank of #Cyprus branch in Nicosia, by @yianniskourtostwitter.com/AFP/status/317… — Agence France-Presse (@AFP) March 28, 2013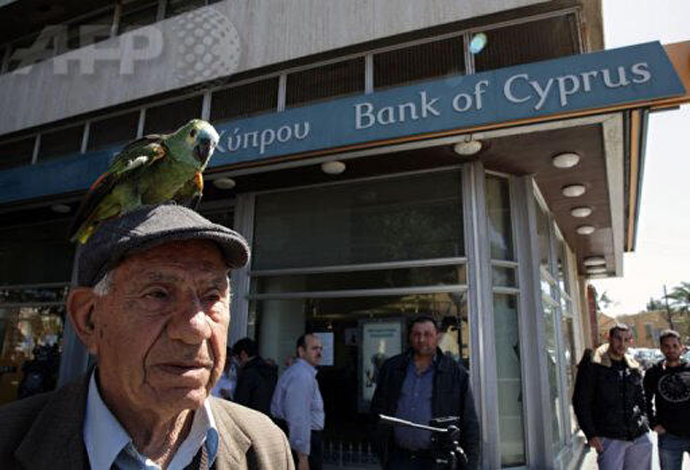 16:28: GMT:
Cyprus foreign minister says expects capital controls to be fully lifted "in about a month".
14:50: GMT: The limits on transactions, which include caps on withdrawals and money leaving the country, are a first in the 14-year history of the euro, say AP.


14:45: GMT: Cypriot President cuts his own salary by 25 percent and cabinet members are to take a 20 percent reduction, say AP.
"President Nicos Anastasiades authorized the country's accountant-general to make the pay cut, undersecretary to the President Constantinos Petrides. Anastasiades' Cabinet ministers have also decided to slash their own wages by 20%."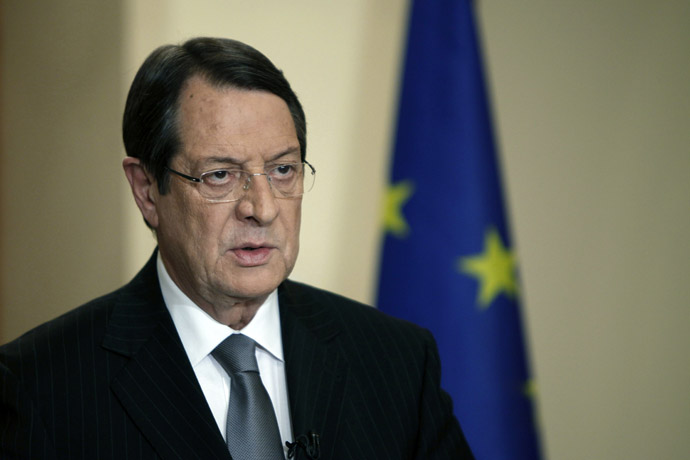 14:09: GMT: As Banks have reopened in Cyprus while locals cite 'panic and uncertainty', says Fox News.
13:48: GMT: AFP in Cyprus say the cabinet has appointed a panel to investigate banking meltdown as country's president cuts his own salary by 25%
13:45 GMT:
Sebastian Brabant, a European Commission spokesman said Thursday that Cyprus is facing the risk "of uncontrolled capital fly". He added that conditions for restricting the free movement of capital were in place at this stage but they are "exceptionally restrictive" and should be in place for "the shortest possible time".
13:30 GMT:
Associated Press in Nicosia reports that Cypriots formed 'large but orderly lines' to get into banks which opened today for the first time since Saturday 16th March.
People filed calmly into banks across the country once they had opened, and no crowd issues were reported....
Although people were calm, there was also concern that the restrictions on withdrawals (people can only get €300 per day) would be disruptive:
In Nicosia, one 70 year-old pensioner who only gave his name as Ioannis arrived at the bank some two hours ahead of the scheduled opening time.

"I had to come this early, I came from my village 20 kilometers away, what do they want me to do, keep coming and going?" he said
13:09 GMT: Cyprus foreign minister: the EU has taken us back to 1974.
13:02 GMT:
Sign at Larnaca airport limiting all currency exports to €1000. Some searches happening. twitter.com/faisalislam/st…

— Faisal Islam (@faisalislam) March 28, 2013
12:54 GMT: "I came to deposit cheques, so I will be able to pay my employees. They are going to get late cheques but there is nothing else I can do," Nicosia pharmacist George Ksenas told AP.
He maintained that he wouldn't try to get his money out of the bank. "No, no, I will stick to the directions given by the Cyprus government so we can save, at least, the country," Ksenas said.


12:37 GMT: Financial markets have remained steady on Thursday as Cypriot banks reopened.
In Greece, analyst Vagelis Agapitos said the stability was because markets had adequate time to process the events in Cyprus. "I think the markets don't really care what happens in Cyprus. I mean, the news is already out. Any shock has been felt during the last couple of weeks when the announcement was made and I see this as very much a non-event," he said.
12:27 GMT:
I would like to thank the Cypriot people for their maturity and collectedness shown in their interactions with the Cypriot Banks #Cyprus

— Nicos Anastasiades (@AnastasiadesCY) March 28, 2013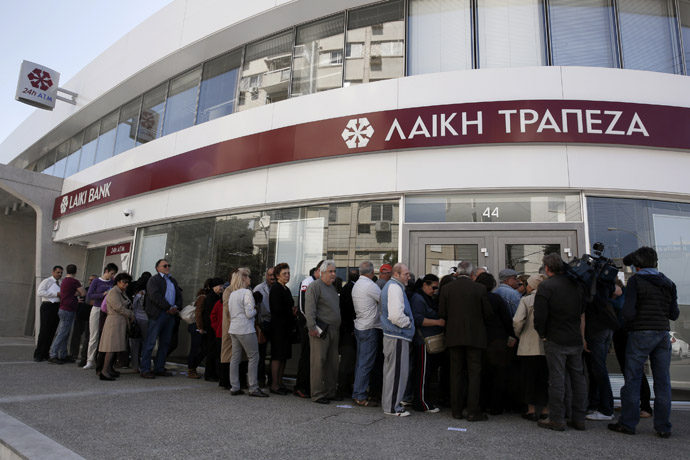 12:06 GMT: "You've no idea how much I've been waiting for this ," 64-year-old pensioner Froso Kokikou, waiting in line at a branch of Cyprus Popular Bank, also known as Laiki, told Reuters.
"I feel a sense of fear and disappointment having to queue up like this; it feels like a Third World country, but what can you do?" Kokikou said. "This is what they imposed on us and we have to live with it."


11:39 GMT:
#cyprus is a treasure trove of stories. ATM queues and panic won't be one of them. I'm glad.

— Matina Stevis (@MatinaStevis) March 28, 2013
11:15 GMT: Cypriots are not only taking their money out of the banks, they are also depositing it. "I didn't withdraw any money. I deposited money," Kyriakos Vourghouri, an owner of a minimarket, told AFP. "The problem is not in Cyprus, it is in Europe, which has become gangrenous."
10:45 GMT:
6 mo's from now anything worth owning in Cyprus will be bought by private equityin US and UK for pennies on dollar #ControlledDemolition

— Max Keiser (@maxkeiser) March 28, 2013
10:39 GMT:
Media on one side, banks and calm line of people on the other, a tour group right smack in the middle #Cyprustwitter.com/Tesa_RT/status…

— Tesa Arcilla (@Tesa_RT) March 28, 2013
10:33 GMT: The restrictions are expected to be in place for at least a week, and their effectiveness will be monitored on a day to day basis.
10:29 GMT: A Bank of Cyprus branch in Volos, central Greece, was reportedly attacked by unknown assailants. Two petrol bombs were thrown at the bank's two ATM machines. The fire was put out by the fire service before it could cause further damage; no one was injured in the attack. Police are investigating the incident.
10:22 GMT:
Poor old Laiki bank. Not only will they be shut down, they haven't opened yet like other banks due to technical issues. #Cyprus

— Maria Hadjiconstanti (@MariaHadji) March 28, 2013
10:16 GMT:
The moment one co-op bank branch opened at midday in Nicosia #cyprus#rtenews twitter.com/willgoodbody/s…

— Will Goodbody (@willgoodbody) March 28, 2013
10:10 GMT: People flood to ATMs to take their money as most banks in Cyprus have reopened.
10:06 GMT:
Heightened tensions, insults exchanged, pushing and showing outside #Cyprus bank. Oh, that just the reporters!

— teacherdude (@teacherdude) March 28, 2013
10:00 GMT: Cypriot banks' doors open.
9:54 GMT:
The most interviewed man in #Cyprus today. He'a first in line at main branch of the BofC. Doesn't have an ATM card. twitter.com/MCaruso_Cabrer…

— M. Caruso-Cabrera (@MCaruso_Cabrera) March 28, 2013
9:52 GMT: Queues are starting to build outside the banks. "It will be a very bad day – there will be swearing and a lot of anger," Philippos Philippou, an unemployed electrician waiting in a queue outside Laiki Bank in downtown Nicosia told AFP.

A man who would not provide his name said he plans to "take all my money slowly, slowly." He believes the panic will last a week or two: "After that things will return to normal, but with less money."
Calm Cypriots at bank branches shows why it was so easy to rip them off. Banksters knew they'd get no resistance from grannies and workers.

— Max Keiser (@maxkeiser) March 28, 2013
9:49 GMT:
Some people in front of Bank of #Cyprus. Everyone's calm. twitter.com/Tesa_RT/status…

— Tesa Arcilla (@Tesa_RT) March 28, 2013
9:36 GMT: The Cyprus liquidity crisis will only lead to violence, Wide Awake News founder Charlie McGrath has told RT.
"It is going to be a mess. It is a mess now and when they open up, I predict that there's going to be a lot of people that are really ticked off. We're already seeing people on the streets protesting. This is the kind of thing you'll see violence soon, because it is the people's money; it is their assets that are just being robbed from them," he said.


9:25 GMT: "I feel shame that I live on the pension of my mom because I used to have my own salary every month, I used to have my own job, so it's very difficult to live with the money that my mom needs," unemployed Leonidas Argyrides told RT.
"Life is turning upside down. You make plans for the future and suddenly you hear that the economy of your own country and the bank system is collapsed. So you're standing with empty hands."


9:18 GMT: Non-cash payment and money transfer restrictions:
Transactions under 5,000 euros have no restrictions. Sums from 5,001 euros to 200,000 euros must be approved by the central bank, which will consider the liquidity of the bank involved and make a decision within 24 hours. Transfers of over 200,000 euros will be determined on a case-by-case basis. No limitations were placed on payroll transfers that have the appropriate documentation.
Living expenses or tuition fee transfers are permitted for students who are close relatives of Cyprus residents. Transfers for living expenses are capped at 5,000 euros a quarter, and supporting documents must be supplied. Payments towards credit or debit cards are limited to 5,000 euros per month.


8:54 GMT: A majority of Cypriot banks are under heavy guard by police and security. The banks requested the security presence out of fear their employees would be attacked by angered depositors. Authorities have called on the public not to unleash their anger at the bank clerks, who are just doing their job. "We are not responsible for what is going on," a union for bank workers' communiqué stated. "Rather we are victims of somebody else's actions and mistakes that have lead to the current catastrophe that has put many people in an extremely tragic position."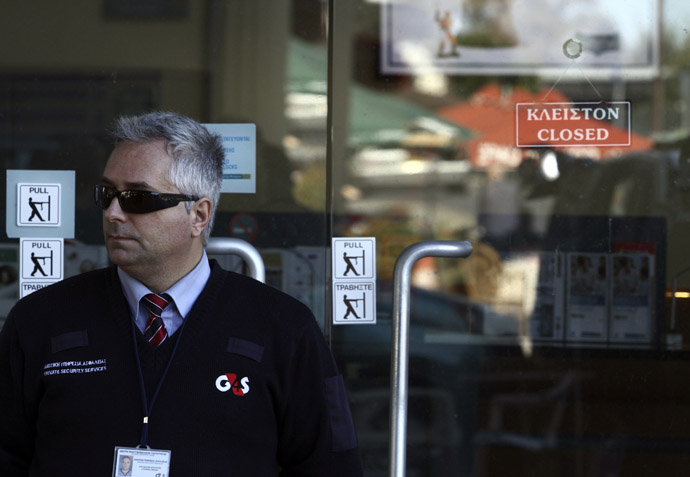 8:30 GMT: Cypriots are excited over the reopening of the banks.
"Finally people's mood will be lifted and we can start to trust the system again," Yorgos Georgiou, who owns a dry cleaning business, told Reuters. "I'm worried about the poor kids working in the cashiers today, because people might vent their anger at them. You can't predict how people will react after so many days."
Kostas Nikolaou, a 60-year-old pensioner, said the uncertainty of the past two weeks had been "like a slow death… How can they tell you that you can't access your own money in the bank? It's our money, we are entitled to it."
8:13 GMT:
Statement by the European Commission on the capital controls imposed by #Cyprusbit.ly/XdWXGg

— Efthimia Efthimiou (@EfiEfthimiou) March 28, 2013
8:01 GMT:
Media ready. Man tells me he's ready to put a box over his head to avoid cameras :) #Cyprustwitter.com/Tesa_RT/status…

— Tesa Arcilla (@Tesa_RT) March 28, 2013
7:59 GMT:
Bank staff getting ready #Cyprus. Two hours til opening at noon. twitter.com/Tesa_RT/status…

— Tesa Arcilla (@Tesa_RT) March 28, 2013
Probably the most photographed/filmed bank security today. Outside Bank of #Cyprustwitter.com/Tesa_RT/status…

— Tesa Arcilla (@Tesa_RT) March 28, 2013
7:30 GMT: 5 billion euros were reportedly flown into Cyprus for banks reopening after a two-week 'bailout break,' Greek newspaper Vima reported. The money came on a special flight from Frankfurt – the currency was loaded into special containers and moved to the central bank of Cyprus under tightened security.
You can share this story on social media: